API 5DP Oil Drill Pipe
API 5DP Oil Drill Pipe
Drill Pipe
)Standard: API 5DP
)Upset: EU, IU, IEU
)Size: 2-3/8, 2-7/8, . 3-1/2, 4, 4-1/2, 5, 5-1/2, 6-5/8 (OD: 2 3/8" to5 1/2" of label 1 or 60.32mm to 139.7mm )
)Length: R1, R2, R3 (R1: 6.1-7.01m; R2: 8.84-9.75m; R3: 12.19-13.72m)
)Grade: E75, X 95, G105, S135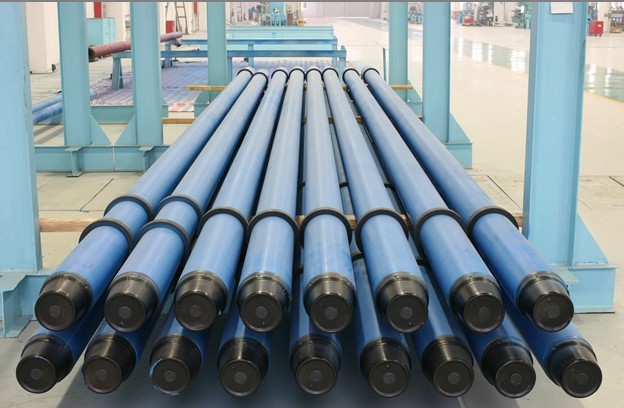 Size
Normal Weight
(LB/FT)
End Calcu Weight
OD
Thickness
Grade
IU/EU/IEU
Ib/ft
Kg/m
inch
mm
inch
mm
2-3/8"
6.65
6.27
9.33
2.375
60.3
0.280
7.11
E,X,G, S
EU
2-7/8"
10.40
9.72
14.47
2.857
73.0
0.362
9.19
E,X,G, S
IU or EU
3-1/2"
9.50
8.81
13.12
3.500
88.9
0.254
6.45
E
IU or EU
3-1/2"
13.30
12.32
18.34
3.500
88.9
0.368
9.35
E,X,G, S
IU or EU
3-1/2"
15.50
14.64
21.79
3.500
88.9
0.449
11.4
E
IU or EU
3-1/2"
15.50
14.64
21.79
3.500
88.9
0.449
11.4
X,G, S
IU or EU
4"
14.00
12.95
19.27
4.000
101.6
0.330
8.38
E,X,G, S
IU or EU
4-1/2"
13.75
12.25
18.23
4.500
114.3
0.271
6.88
E
IU or EU
4-1/2"
16.60
15.00
22.32
4.500
114.3
0.337
8.56
E,X,G, S
IU or EU
4-1/2"
20.00
18.71
27.84
4.500
114.3
0.430
10.92
E,X,G, S
IU or EU
5"
16.25
14.88
22.16
5.000
127.0
0.296
7.52
X,G, S
IU
5"
19.50
17.95
26.70
5.000
127.0
0.362
9.19
E
IEU
5"
19.50
17.95
26.70
5.000
127.0
0.362
9.19
X,G, S
IU or EU
5"
25.60
24.05
35.80
5.000
127.0
0.500
12.70
E
IU
5"
25.60
24.05
35.80
5.000
127.0
0.500
12.7
X,G, S
IU or EU
5-1/2"
21.90
19.83
29.52
5.500
139.7
0.361
9.17
E,X,G, S
IEU
5-1/2"
24.70
22.56
33.57
5.500
139.7
0.415
10.54
E,X,G, S
IEU
6-5/8"
25.20
22.21
33.04
6.625
168.3
0.330
8.38
E,X,G, S
IEU
6-5/8"
27.72
24.24
36.06
6.625
168.3
0.362
9.19
E,X,G, S
IEU
Oil casing used for the sidewall of the fixed oil and gas wells or borehole diameter can be pided into surface casing, intermediate casing and production casing. More independently developed TD series of non-API standard tubing and casing: one is higher than API oil casing against destroying Performance, including TD95T \ TD110T.
Second, it is applicable to heavy oil thermal recovery wells TD110H casing series,
Third, the anti-hydrogen sulfide corrosion TD110S special tubing and casing.
Mainly engaged in the development and production of oil and gas drilling pipe, main products include tubing, casing and drill pipe. The company is a collection of scientific research, production and trade as one integrated enterprise groups. TTGM has two production plants, which are located in Tianjin Dongli Economic Development and Jinnan Economic and Technological Development Zone, set up sales subsidiaries in the United States, Russia, Saudi Arabia, Haas Kesi Tan. TTGM processing production line with a number of oil casing, drill pipe friction welding production lines and a dedicated pipeline for oil in the construction and management, heat treatment production line, the main direction of development and production, products related to API tubing, casing, special deduction, and drill pipe and other fields.
上一篇:ANSI steel pipe schedule chart - SCH40 SCH80 seamless ERW pi
下一篇:GI Carbon Steel Tube,Carbon steel galvanized pipe and tube