Carbon Steel Pipes Value-Added Services
Crbon steel pipe Value-Added Services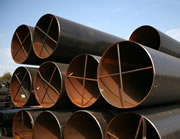 Grooving
We offer some of the most advanced grooving capabilities in the industry. We are capable of roll grooving 2" – 24", AGS grooving 14" – 24", and RX grooving stainless. Cut grooving is also available. Our Houston and New Jersey facility are capable of grooving Double Random Lengths as well as Single Random Lengths.
Cut To Length Carbon
Our state of the art cutting facilities allow us to cut from 6" up to 48" OD and up to 1.5" wall thickness, with a tolerance of –0"/+2". We can provide cut-to-length orders on all our products including Seamless, ERW, DSAW, A333 and Stainless Steel pipe.
Threading
We offer threading services from 1/4"- 6" in single random lengths and double random lengths.
We produce a line pipe thread on carbon and stainless pipe. Our facilities in Houston, Corpus Christi, Denver, Mobile and New Jersey all have threading machines.
Galvanizing
We stock from 1/2" – 12" in Seamless Hot Dip Galvanized in schedules STD, XH and 160; and 2" – 12" Grade B ERW STD Hot Dip Galvanized. Additionally, we can have other sizes galvanized in 3 – 5 days.
上一篇:Production of spiral steel pipe