sch 20 pipes,schedule 20 steel pipe
sch20 astm a106
1.ASTM A106/A53/A252/A179/
2,ST37/ST35.8 DIN2448/DIN17175/DIN1628
3.O.D.: 21.3mm to 914mm(1/2"-36") W.T. 1mmto 60mm
4.Seamless/ weld
5,.BV/ SGS approved
Black steel seamless pipes sch20 astm a106
ASTM A 106/A53 Gr.B Seamless Carbon Steel Pipes
pipe astm a53 grade b
black steel seamless pipes sch20 astm a106
1.standards: ASTM A106 (ASME SA106)
2.products mainly used: apply to bending, curling and similar forming process.
3.the main products of steel / steel grade: Gr.A; Gr.B; Gr.C.
4.Specifications: diameter: 21.3mm to914mm thickness: 1 to 60 mm Length: 3 m above, and, in accordance with customer demand, supply and other specifications of steel pipe.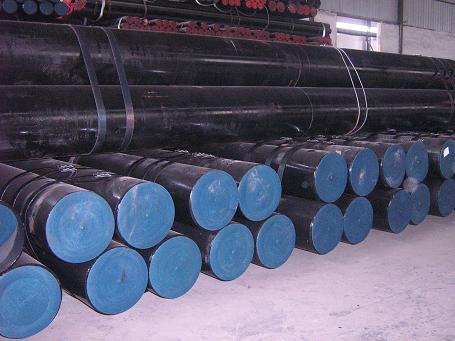 Chemical Components and Mechanical Property
Standard
Grade
Chemical components
Mechanical property

C

Si

Mn

P

S

Cu

Ni

Mo

Cr

V

Tensile Strength
(Mpa)

Yield Strength
(Mpa)

Elongation
(%)

ASTM A53

A

≤0.25

---

≤0.95

≤0.05

≤0.06

≤0.40

≤0.40

≤0.15

≤0.40

≤0.08

≥330

≥205

≥29.5

B

≤0.30

---

≤1.2

≤0.05

≤0.06

≤0.40

≤0.40

≤0.15

≤0.40

≤0.08

≥415

≥240

≥29.5

ASTM A106

B

≤0.30

≥0.10

0.29~1.06

≤0.035

≤0.035

≤0.40

≤0.40

≤0.15

≤0.40

≤0.08

≥415

≥240

≥30

C

≤0.35

≥0.10

0.29~1.06

≤0.035

≤0.035

≤0.40

≤0.40

≤0.15

≤0.40

≤0.08

≥485

≥275

≥30
API 5L Chemical Components and Mechanical Property PSL1:
Class and sort
Chemical components
Mechanical property
C (Max)
Mn (Max)
P (Max)
S (Max)
Tensile Strength (Min)
Yield Strength (Min)
psi
Mpa
psi
Mpa
A25
CL ONE
0.21
0.60
0.030
0.030
45000
310
25000
172
CL TWO
0.21
0.60
0.030
0.030
A
0.22
0.90
0.030
0.030
48000
331
30000
207
B
0.28
1.20
0.030
0.030
60000
414
35000
241
X42
0.28
1.30
0.030
0.030
60000
414
42000
290
X46
0.28
1.40
0.030
0.030
63000
434
46000
317
X52
0.28
1.40
0.030
0.030
66000
455
52000
359
X56
0.28
1.40
0.030
0.030
71000
490
56000
386
X60
0.28
1.40
0.030
0.030
75000
517
60000
414
X65
0.28
1.40
0.030
0.030
77000
531
65000
448
X70
0.28
1.40
0.030
0.030
82000
565
70000
483