NEW SINDA structural steel pipe and seamless steel pipes
The Macsteel Tube & Pipe facility supplies products manufactured in SABS and International quality standards including:
Water and other conveyance pipe

Tube for structural engineering and general engineering end use
Mechanical Application such as:

Hi-tensile Scaffolding
Conveyor Idler Tube
Furniture and General Purpose Precision Tubing
Tube & General Galvanizing
Products Manufactured include:
Rounds

Squares
Rectangles
Ovals
Special Profiles

NEWSINDA STEEL Tube & Pipe manufactures structural tubing and is one of the largest producers of SEAMLESS STEEL PIPE in ASIA.

The factory complex is located in cangzhou, china. Our 10 000ms facility supplies a large and diverse range of products to various industries. The company's core skill is that of forming and cold or hot roll steel strip to produce tube and pipe of the highest quality. These skills are enhanced by the CAD design facility for roll forming and a CNC roll manufacturing operation. NEW SINDA STEEL Tube & Pipe adds further value by Galvanizing, Fittings, Laser Cutting, Cutting Painting and Coating its products. The plant is able to supply special sections and wall thicknesses as per customer requirements.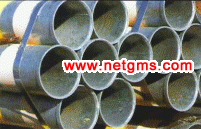 上一篇:Water conveyance pipe,API 5L PIPE water conveyance pipe