Carbon Steel Tee Classification
Carbon Steel Tee Classification
The future development trend of the three-way manufacturers of carbon steel and three links, the standard national standard, electric standard, standardization, water standard, American standard, German standard, Japanese standard, and Russian standard of three links are as follows: GB/T12459-2005, GB / T13401-2005, ASME B16.9, SH3408, SH3409-96, SH3410-96, HG/T21635, DL/T 695, SY/T 0510, DIN 2615.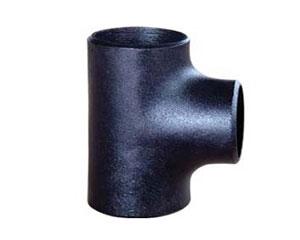 The three main materials are divided into: carbon steel, stainless steel, alloy steel, socket fittings, etc...

High-pressure three-way forging excellent, smooth surface, acid and alkali resistant high temperature, reasonable price calculation, beautiful appearance, strong texture performance, the main role is to change the direction of the fluid. A chemical fitting with three openings, namely an inlet and two outlets, or two inlets and an outlet, with T-shaped and Y-shaped, with equal-diameter nozzles, and also with different-diameter nozzles, used for the three identical or Different pipeline collections.

High-pressure three-way adopts professional forging and welding processes. Using high-precision CNC lathe turning, ordinary lathe finishing, argon arc welding and other processing.

High-pressure three-way production standards for the national standard, American standard, standardization, machine standard, electric standard, ship standard.

Butt-welding three-way steel is hot-pressed or forged elbow. Its connection form is to directly weld the three-way and steel pipe. The main manufacturing standards for butt welding three-way are generally GB/T12459, GB/T13401, ASME B16.9, SH3408, SH3409, HG/T21635, HG/T21631, SY/T0510.

Butt-welding tee is generally equal-diameter tee, reducing tee and other materials, materials are carbon steel, alloy steel and stainless steel

Cold-drawn Tee is a section of the supervisor plus a small branch pipe. Obviously, the two large sizes are the main pipes. The small size indirectly is the branch pipe. In the pure oxygen pipeline, it is generally under pressure. At this time, the oxygen More active; if using cold-drawn tees, as long as the debris in the pipe moves with the oxygen flow, due to changes in pipe diameter, changes in the flow rate may cause collision of debris with the pipe to produce fire or static electricity due to changes in the flow rate Discharge can cause pure oxygen tube to catch fire.
上一篇:Seamless and welded Steel Pipe (Mineral Slurry pipe) Standards and Grades