Large diameter steel pipe,spiral pipe,SSAW pipe,ASTM A53/A25
Product name

Spiral Double Side Submerged Arc Welded pipe(DSAW/HSAW/SSAW)

Out diameter

219mm-3048mm, 8"-120"

Wall Thickness

4mm-30mm, SCH 5S, SCH 10S, SCH10, SCH20, SCH30, SCH40S, STD, SCH40, SCH60, SCH80S, XS, SCH80, SCH100, SCH120, SCH140, SCH160, XXS,etc.

Length

6m-32m

Standard

API 5L, ASTM A252, EN10219, EN10217, ISO3183, GB/T9711, SY/T5037, SY/T5040, etc.

Quality grade

First class, prime, newly produced, secondary , stock etc.

Material/Steel grade

A, B, X42, X46, X52, X56, X60, X65, X70, L210, L245, L290, L320, L360, L390, L415, L450, L485, BN, X42N, X46N, X52N, X56N, X60N, BM, X42M, X46M, X52M, X56M, X60M, X65M, X70M, X80M, X90M, X100M, L245R, L290R, L245N, L290N, L320N, L360N, L390N, L415N, L245M, L290M, L320M, L360M, L390M, L415M, L450M, L485M, L555M, L625M, L690M, Grade 1, Grade 2, Grade 3, St33, St37, St42, St34-2, St37-2, St42-2, St52-3, P195, P235, P265, S235JRH, S275J0H, S275J2H, S355J0H, S355J2H, S355K2H,S275NH, S275NLH, S355NH, S355NLH, S460NH, S460NLH, S275MH, S275MLH, S355MH, S355MLH, S420MH, S420MLH, S460MH, S460MLH, Q195, Q215, Q235, Q345, etc.

Certificate

EN10217, EN10219, API 5L PSL1/ PSL2, KS 4602, KS3583, GB/T9711.1/2,etc.

End

Plain end, spigot & socket joint, beveled, cut square, flanged, piling shoes,etc.

Surface

Bare, varnished, black lacquer, Bitumen Coating, zinc coating, anti-corrosion coating, 3PE, FBE,Epoxy, Cement Mortar, as per customer's requirement

Hydrostatic Test Range

Max Length 21 meters; Max Diameter 2600mm;

Test

Chemical Component Analysis, Mechanical Properties (Ultimate tensile strength, Yield strength, Elongation), Metallographic Test, Technical Properties (Bending Test, Charpy-v Impact Test, Hydrostatic Test, X-ray Test, Ultrasonic Test)

Packing

Usually in loose pieces; can be packed as customers' special requirements

Application

l line pipe for use in pipeline transportation systems in the petroleum and natural gas industries;

l applies to pipe piles in which the steel cylinder acts as a permanent load-carrying member, or as a shell to form cast-in-place concrete piles;

l predominantly used in the construction of chemical plant, vessels, pipe work and for general mechanical engineering purposes;

l applies to structural hollow sections and pressure purposes etc.
ASTM A53/A252 steel pipe piling
1 standard: ASTM A252,EN10210,EN10219,EN 2 O.D.:219-3048mm
length:2.5-20m
grade:S235,S275,S355,Q235
1.A252 SSAW piles pipe
2.OD:219.1-3048mm
3.W.T:4-30mm 4.Length:3-20m 5.Competitive price,best service,quanlity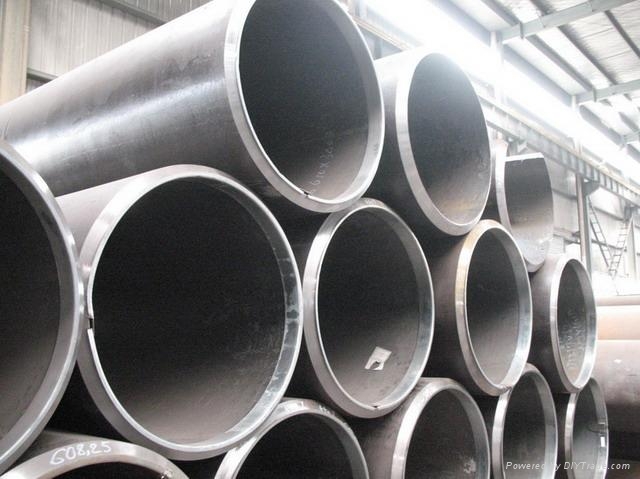 Large-diameter steel pipe conveyance technology and quality control
Large diameter steel pipe conveyance technology manufacturing and quality control
1m water pipe, 6m a production at the factory site butt X-groove welding. Preservation: the outer layer of coal tar epoxy coating, inside wall-cement galvanized mesh quality control by national norms, pressurized water seepage only O.1051/min. Keywords: steel pipe manufacturing process quality control of the eastern part of Shenzhen diversion project, including the eastern part of the source of water supply engineering and water supply network Route Project, the total length of 1057km. diversion 11m3 / s in the near future, long-term up to 30m3 / s. larger ba inverted siphon project is an important part of the project, with a double row of steel penstocks, an inner diameter of 1m, dual row, each lasting 839m as a pipe bridge Ming pipe wall thickness t = 30mm, double row tube length 208.1m; buried pipe wall thickness t = 24mm, double row tube length each 628m. 1m diameter supply steel pipe construction in two phases, 6m or 4m tube section first factory to manufacture growth, then transported to the site for docking.
A technical document construction drawings, design specifications, the current national standards and industry standards.
Second, the selection of steel pipe with Q235 sedation steel plate size according to the length and width dual Length -24 × 9870 × 2050 and -30 × 9870 × 1850 order of the arrival of the steel grades clearly, complete certificate and 5% inspection. welding consumables: automatic submerged arc welding wire with HO8A, welding HJ43 manual welding electrodes using J427 the anticorrosive material: galvanized wire cement mortar lining of steel pipe anti-corrosion; outer anticorrosion buried
Possession using special enhanced level of coal tar epoxy paint tube Ming STIC heavy duty coatings.
Cutting of steel plate, coil, and assembling a steel pipe production cutting steel pipe longitudinal seam and surround groove design uses a "V"-shaped and "U" shape. According to the specific circumstances of the existing processing equipment for the construction unit, design units agree replaced by automatic submerged arc welding symmetrical "X"-shaped, hand welding groove, the site changed "partial X"-shaped - that is, the circular seam level above the centerline of the outside and below the horizontal centerline of the inside are open "V"-shaped groove, corresponding to the opposite direction to open a small "V" groove. "partial X" groove for easy welding lift up his countenance upon welding of small slope mouth, then arc gouging positive Qing root, and then welding the upper large weld plate automatic flame gas cutting gun cut, first cut straight edge, coupled with the cutting groove. the cutting oxygen stress O.6MPa, acetylene gas pressure O.5MPa. then use the high-speed corner sander, clear melt within the groove slag, burrs, iron oxide, polished weld groove. coil capacity coil rolling machine for plate thickness 25mm × plate width 4000mm. first with a bending machine press out the curvature of the steel plates at both ends of the head, and then rolled intermediate parts. general volume grind 4 to 5 times, constantly check with boilerplate radians, radians qualified spot welded longitudinal seam interface. roundness specification requirements, when again set into the interface of each measure longitudinal seam welding after the Bending Machine rewinding to ensure quality standards. pipe section assembly to consider site lifting and transport capacity, reduce site weld, three short sections assembled into a long section, that the wall thickness 24mm, length 6000mm, weight 11094kg ; wall thickness of 30mm,
Control adjacent pipe section longitudinal seam length of 5400m, weight 12625kg. Assembled car length 7m arc rotation. Stagger 1800mm, longitudinal seam weld unfitness assembly controlled within 2mm, girth not more than 3 mm tack welding the length of each 250mm welded 50mm steel pipe assembly inspection after inspection, planarity 2mm nozzle, the roundness 3D ‰ = 9mm perimeter <3D ‰ = 9mm, have reached the specification requirements.
Steel pipe welding first welding procedure qualification 30mm thickness of steel plate for welding procedure qualification steel material Q235 killed steel, automatic submerged arc welding wire Grade H08A, wire diameter 5mm flux grades HJ43 girth and longitudinal butt flat welding seam are used, the type of groove symmetrical "X"-shaped, while the first open bevel 60 ° slope mouth depth of 8mm blunt edge 14mm, welder MZ-1-1000A automatic arc welding machine, welding current 900 ~ 950A, arc voltage of 38V, welding speed 200 ~ 250mm/min. positive welding after back seam arc gouging clear roots and re-welding weld visual inspection and internal non-destructive testing, reached a weld standard mechanical performance test results meet the requirements of GB700-88 steel pipe welding buried steel: Material Q23 thickness t = 24mm welding parameters for voltage 36V, current 850 to 900A, speed 35mm/min. welding sequence: the length of each section 2m, longitudinal seam inside of the first to open a 60 ° bevel, depth 6mm the weldment is fixed by a welder arm stretching, automatic welding; outside of the longitudinal seam arc gas
Planing, open 60 ° bevel depth 6mm, Qing root in the end, and then the high-speed corner sander clear layer of slag, burrs and heat, automatic welding. 3 sections put together a large section of length 6m. before welding the inside, after welding the outside of the same direction. different then steel pipe on the roll welding trolley for rotary motion, and mounted on the welding arm welder for wire feed welding specify the welded pipe: pipe Q23 thickness t = 30mm. strictly in accordance with the welding procedure qualification steel pipe weld quality inspection report in the the welding electrical characteristics determined execution, voltage 38V, current 900 ~ 950A, speed 200 ~ 250mm/min. 3. visual inspection of welds: installation and acceptance DL/T5017-93 steel pipe manufacturing factory welded longitudinal seam and girth, belongs to a class and two types of welds, and focus on, check for cracks, porosity, not welded full surface ash and other defects, after inspection to reach specification requirements, must be processed.
Non-destructive testing of the welds inside: Since the pipeline are oversize steel tube in a water supply project, the extraordinary thickness t = 30mm steel tube is used as a pipe bridge is necessary to withstand water pressure, but also the burden of formed steel pipe self-weight and water the moment, so the quality of the welds require extraordinary high. belongs to a class of pipe bridge with t = 30 mm thick steel pipe, the longitudinal seam and girth weld requirement for 100% of the X-ray film examination and 100% of the ultrasonic flaw detection; while the thickness t = 24mm of the buried ground steel tube, the longitudinal seam is a welding, to 20% of the X-ray film examination and 50% of the ultrasonic flaw detection X-ray flaw detector model XXH -300 ultrasonic flaw detector model for the CTS-22.
Corrosion protection of steel pipes buried pipe outer anticorrosion shot blasting: rust by Sa5 control the spray steel shot blasting, metal surface was completely exposed silver-white metallic luster roughness 40 ~ 70m. Spraying anti-corrosion layer: strengthen special grade coal tar epoxy, a primer face five sandwiching four layers of epoxy glass fiber cloth, thickness 0.9 ~~ 1mm dried up to the non-stick coating interval of each layer of paint to paint-coated hand prevail quality inspection: visual inspection: the paint surface is uniform, smooth, non-sagging, no bubbles, no wrinkles. thickness gauge, sampling 5%, all measured points to achieve the design thickness up painting thickened. with a 5000V spark pinhole leak detector, pinhole and insulation checks, not sparking qualified adhesion to check the anti-corrosion layer cut triangular mouth, forceful tearing should not easy to pull up; if pulled up but the first layer of primer must be attached to the pipe metal surface, and it's only qualified Ming pipe outer anticorrosion STIC heavy duty coatings abrasive blasting: all child tube rust spraying anti-corrosion coatings: In addition to rust qualified, airless high pressure spray gun, spray the first layer of red primer until the paint dry sticky hands, then sprayed the end of the second film thickness of 300m paint inspection: visual inspection, child care tube thickness measurement magnetic gauge measuring the total thickness of the film should be more than 600m. internal corrosion of the steel pipe buried pipe and next pipe internal corrosion, and are used to hang galvanized barbed wire, spraying compressive strength not
Less than 30N/mm2 cement mortar lining. Cement mortar mix ratio, water: cement: sand = 22:200:270; living water; # 525 Portland cement; hard, clean, well-graded natural sand clay content is less than 2% of the maximum particle size of less than 2mm. rust: casing pipe installation, welding, backfill, vertical displacement acceptance, complete removal of the pipeline within the floating rust, scale with a wire wheel brush , welding slag, oil and so on. bang bar galvanized wire: laying 3mm diameter wire, mesh size 50mm x 50mm mesh interval 10mm pipe at the bottom of the arc length 1380mm range laying barbed wire, in order to spray the car to walk; barbed wire and tube the wall between the pad the diameter φ the long 7mm Q235 reinforced, spot welding, spacing 350mm, steel pipe inner wall away from the wire surface 9mm. mechanical spraying cement mortar: two layers spraying the first layer sprayed 10 ~ 12mm thick, the second layer of spray 8 ~ 10mm, ensure abrasion smooth. conservation: a section of steel pipe spraying is completed, immediately blocking all vent holes, so that the tube be kept moist, and conservation. inspection and acceptance: measuring the anticorrosive thickness, surface roughness, and check for cracks, hollowing phenomenon grout compressive strength to achieve 30N/mm on superscalar parts to be processed so as to meet the regulatory requirements.
Sixth, the entire steel pipe hydrostatic test in accordance with the design requirements: the test pressure 0.481MPa seepage is not greater than 41/min.2000 April require total length of 827m, were suppressed leakage buck and suppress water buck test results of two steel pipe seepage were the O.1051/min 0.281/min, to meet the design requirements.
Inverted siphon tube from design to manufacture and installation, are in strict accordance with the requirements of the design and specification, to overcome the steel pipe production and installation of all the technical problems, strict quality control by the mass acceptance,
www.netgms.com/spiral-pipe.html
unit works fine goods was 96%, reaching more meet the effect of laying a solid foundation for the safe operation of the project.
上一篇:15MnVR steel welding pipe technology in hydropower penstock
下一篇:Occurrence and elimination of cold drawn seamless steel pipe