OD: 219.1 mm - 3048mm
WT: 5.1mm-25.4mm
Length: 6m-18m, or as per customer's requirements,Random length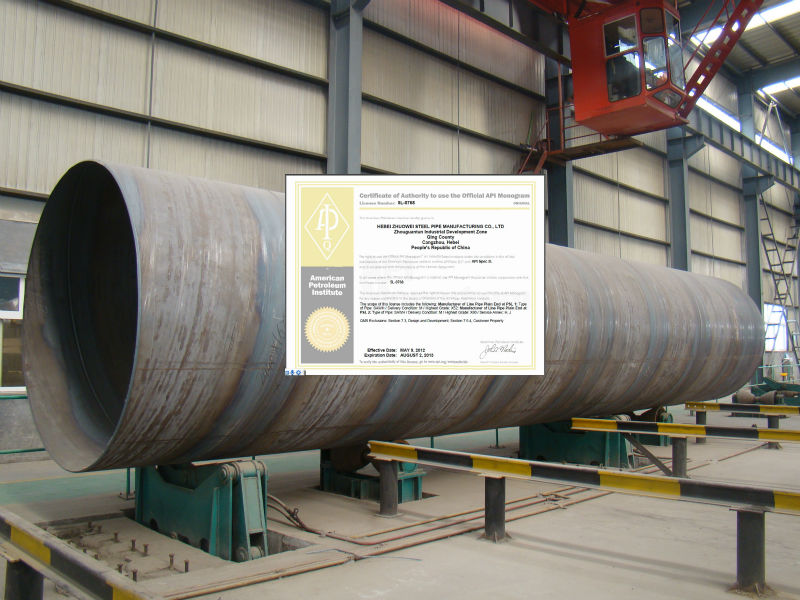 Material: Q235B, Q345B, 16Mn, 20#, L245-555
Steel Grade: Gr.B, X42, X46, X52, X56, X60, X65, X70, X80 etc
Surface: 3PE, FBE, Varnaish
Testing: Mechanical properties analysis,Chemical composition testing
Certificates:API 5L; API Q1;ISO9001:2008;ISO14001:2004; OHSAS18001:1999.
Export to:Canada, USA, Argentina, Peru, Chile, Colombia, Brazil, Malaysia, Singapore, the Czech Republic, Australia, South Africa, Spain, Italy, etc
Delivery condition: Beveled or plain end with or without varnish/2PP/2PE/3PE/3PP anticorrosive coating
With or without protecting caps as per customer's requirements;with FBE internal coating for water steelpipes.
Delivery Time: 30 days after receipt of deposit or irrevocable L/C at sight
Payment Term :T/T, L/C at sight
Packing: In bulk
Dynamic simulation tools for multiphase oil and gas pipelines
In recent years, China has launched a lot of long-distance oil and gas pipeline projects, such as natural gas, up to thousands of kilometers. Oil and gas pipelines over the mountains, even buried in the bottom of the sea, is not easy for people close to. Meanwhile, the characteristics of the oil and gas description more difficult, the composition also changes with time, to change the current system will affect the flow rate, pressure drop, and its liquid holdup in the pipe, and in the system may be formed in the non-evaporated liquid droplet transfer, is not conducive to the design and operation of downstream equipment. Therefore, the design and operation of oil and gas pipeline engineering and technical personnel is a major challenge.
In the oil and gas pipelines, engineering and technical personnel often encounter the following problem: how to use a new platform of the existing pipeline to transport oil and gas? What kind of operating conditions will cause the plunger to flow? Non-evaporating droplets were captured should be? If the pipeline rupture, what would happen? How to use existing pipeline to improve transport flow? How to respond quickly to increased demand for gas? Therefore, engineering and technical personnel need a rigorous model of the pipeline fluid flow, as well as a powerful and easy-to-use software tools, you can define the problem and case studies, in order to deal with these challenges.
In the 1990s, Amsterdam, Shell Research Laboratory developed the the pipeline the model (Traflow model), the model set of Multiphase Flow in basic research, laboratory experience and manipulate data in one. The AspenTech by integrating its own dynamic process simulation technology and Shell Traflow model, launched commercialization AspenTraflow software to become a leading supplier of dynamic simulation software to provide multiphase oil and gas pipelines and related equipment. The simulation tool can be widely used to simulate long large-diameter pipelines, as well as pipeline transporting hydrocarbon mixture. Use of AspenTech dynamic flow simulation to solve program provides a simulated environment, and other devices of the model, such as compressors, valves, mixer / splitter, PID controller and the flash tank, and Traflow pipe model. AspenTraflow by the calculation --- drop and liquid liquid holdup; interfacial friction; conditions for the formation of laminar flow (the droplets of the liquid in the gas phase), the entrained gas (liquid gas); stars phase conditions --- gas / oil (two-phase), gas / oil / water (three-phase); flow pattern map change. In order to predict the multiphase fluid systems (including the piston flow information); Tracking pipe in the respective phases, Analog Phase Equilibrium / mass transfer; analog three-phase oil / water / air system (including water was separated by decantation); computing environment heat transfer a droplet catcher; analog channels on a plurality of feed and / or leakage points; analog interconnected pipeline network, pipeline system may include one or more tubes (containing a branched tube and parallel to the line, or the zero flow and countercurrent amount of); , valves and mixers rigorous model; the analog operational changes, emergency leak scenario simulation of pig iron and other changes; the nature of the fluid in each pipe section can be dynamic or steady state simulation can predict more fluid situation, such as : evaporation of the droplet formation and rusty; flash system between the oil and gas phase mass transfer options (including all component tracking analysis).
As an excellent
gas pipeline
simulation tools, AspenTraflow not only has easy-to-use graphical user interface, allowing users to quickly create models; and fast simulation speed and the ability of the integrated workflow, so that customers can quickly from planning, R & D the ability to program design, detailed engineering design, device driving and asset management stage work, but also integrates the best process model (including a rigorous multiphase pipeline models and other auxiliary equipment model), as well as multi-component tracking and forward-looking planning capabilities.
AspenTech and Shell's proprietary technology, crystallization, we a powerful AspenTraflow multiphase oil and gas pipelines dynamic simulation software to help users save construction costs and time, reduce energy costs and pollution, thereby creating tremendous value. Such as in comparison to the establishment of the second evaporation of the liquid trap with a new 135 km gas / liquid pipeline program decision-making, Australia WoodsideLNG factory Applied AspenTraflow, so that the entire project costs by $ 2.2 million.