API 5L steel pipe,API 5L standard terminology
Product description
| | |
| --- | --- |
| Type | Carbon steel seamless API 5L pipe |
| cold rolled pipe OD | 1/2"-24" |
| cold rolled pipe WT | SCH20-SCH80 |
| Length | 6m-12m |
| Standard | ASME, GB, DIN, JIS |
| Material | A106 B, A53 B, A333 Gr6, API5L X52,X60,X65,X70 |
| Packing | Customized packing available (coating, end-beveling, cap etc.) |
| Application | Petroleum, Gas, Electricity, Chemical, Construction, Boiler, Shipbuilding, Smelting, Aviation, Foodstuff, Papermaking, Medical Equipment etc. |
| Others | Special design available according to your request |
Certificates API and ISO 9001 certificates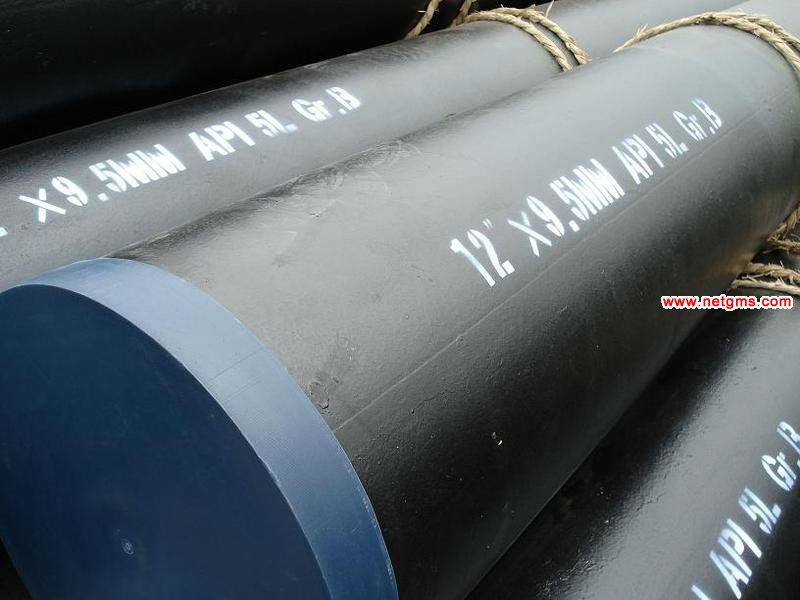 Hebei newsinda steel pipe Co., Ltd is located in mengcun city,cangzhou, capital of Hebei province . It founded in 1996.
We are professional supplier forCARBON STEEL PIPE,ALLOY STEEL PIPE,WELDED PIPE and PIPE FITTINGS,such as Elbow, Tee, Reducer, Flange,Gasket, Stainless Steel Pipe/Tubes,Alloy pipe and carbon pipe(incuding welded and seamless).
API 5L standard terminology
A flaw: It is the size and / or density exceeds the standard requirements and acceptance limits shortcomings.
2 shortcomings: It is checked using a standard method of testing described in the products or the surface of the inner wall discontinuities or irregularities.
3 Layered: internal metal layer is usually formed separately from the steel sheet parallel to the surface.
4 Body: For welded steel pipe means excluding the weld and heat affected zone Germany entire pipe.
5 side: including steel 100mm each end within the length of the pipe.
6 wrong side: steel / steel radial offset between the edges.
7 Cold Forming: without heating the steel strip or plate is molded into the processes.
8 Steel Grade: steel intensity level indicates the name. And steel grade (ie grade steel name) the same.
9 service conditions: by the purchaser in the contract specified conditions of use (or non-maritime service into non-acidic, acidic and / or marine service).
10 require authentication process: refers to steel manufacturing process, product characteristics affect response to comply with this standard (except chemical composition and size) of the final operation.
11 Product specifications PSL: API5L criteria to determine the level of the two grade product specifications, (PSL1 and PSL2 provides different standard levels. PSL2 carbon equivalent, notch toughness, maximum yield strength, tensile strength, maximum yield ratio, Delivery status made mandatory.
12 test batch: batch using the same furnace steel manufacturing in the same conditions, through the same process pipe, made of the same specified outside diameter, wall thickness specifications of a predetermined number of pipe.
13 Product Analysis: steel pipe, steel grade, steel chemical analysis.
14 equipment calibration: the non-destructive testing equipment to adjust to the specified reference value activities.
15 Undercut: Weld metal adjacent to the weld toe in a groove formed on the base material and is not full.
Two, API 5L (44 Version) common symbols
1 D Pipe diameter mm provisions
2 d pipe diameter mm calculated
3 CEIIW carbon equivalent formula to determine the use of International Institute of Welding
4 CEpcm carbon equivalent, using the Ito-Bessyo carbon equivalent formula for determining the chemical part.
5 L Pipe length
6 P hydrostatic test pressure mpa
7 S hoop stress hydrostatic test
8 Rm Tensile strength
9 Rpo2 yield strength (0.2% non-proportional extension)
10 Rt0.5 yield strength (0.5% total elongation)
11 t steel specified wall thickness mm
12 tmin minimum permissible pipe wall thickness
13 P1 plain end pipe unit length mass (weight)
Three API 5L (44 edition) used acronyms
1 PSL product specification level
2 CVN Charpy V-notch
3 DMT drop weight tear
4 IQI IQI
5 NDT non-destructive testing
6 SAW submerged arc welding process using welded seam
7 SAWH manufacture spiral submerged arc welded steel pipe implementation process
8 HAE heat affected zone
上一篇:carbon steel elbow,Forming carbon steel pipe elbow standard