Straight seam welded pipe forming process techonogly
Straight seam welded steel pipe forming process
The large diameter longitudinally welded pipes production process description:
A board probe: used to manufacture large diameter submerged arc welding straight seam steel plate into the production line, the first full-board ultrasonic testing;
(2) Milling: Milling Machine on the plate edge milling on both sides so as to achieve the required plate width, plate edge parallel to the degree and shape of the groove;
Pre curved edge: the pre-bending machine plate edge pre-bending side of the board has to meet the requirements of the curvature;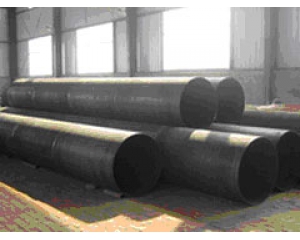 Molding: JCO molding machine first half of the pre-bent steel plate steel plate after multiple step stamping, pressed into a "J" shape, and then the other half of the same bent, pressed into the "C" shape, and finally the formation of openings "O"-shaped
(5) pre-welding: after forming the straight seam welded steel pipe seam gas shielded arc welding (MAG) of continuous welding;
Within the welding: tandem wire submerged arc welding (up to four wire) in the inside of the straight seam steel pipe welding;
Outside welding:
LSAW pipe
tandem multi-wire submerged arc welding the outside of LSAW;
8 ultrasonic testing I: straight seam welded steel pipes inside and outside welds and weld on both sides of the base metal, 100% of the check;
X-ray examination I: internal and external welds 100% of the X-ray industrial TV inspection, image processing system to ensure that the sensitivity of the flaw;
10 expanding: submerged arc welding pipe joints straight full-length expanding in order to improve the dimensional accuracy of steel pipe, and improve the state of stress distribution within the steel pipe;
11 hydraulic test: hydrostatic testing machine, steel pipe expanding by inspection to ensure that the steel pipe to reach the standard required test pressure, the aircraft with automatic recording and storage capabilities;
12. Chamfering: after passing inspection, pipe by pipe-end processing, to achieve the required pipe end beveling size;
13 ultrasonic testing II: again by the root of ultrasonic testing to check for straight seam welded steel pipe that may arise after expanding, hydraulic defects;
14. X-ray examination II: steel pipe expanding and hydrostatic test film of the X-ray industrial TV inspection and welding of
Welded pipe
ends;
15 Magnetic particle inspection of the pipe end: this check to find the tube end defects;
16 anti-corrosion and coating: after passing the steel pipe according to user requirements for corrosion and coatings.
上一篇:Galvanized steel pipe production process technology