Introduction to standard of API Steel pipe standard classific
Introduction
to standard
of
API
Steel pipe
standard
classification
of
API
steel pipe
and
Difference
API
seamless steel
pipe
Standard
Anglo Petroleum Cato suddenly see this phrase, probably a lot of steel pipe industry people do not know what meaning. But referring to the API, its name is absolutely thunderclap, even if the rookie, can also say a Sanlai, API actually refers to the American Petroleum Association, its English full name is Anglo Petroleum Cato, built in 1919, is the first National Business Association in the United States, It is also one of the earliest and most successful standard-setting chambers in the world. As an international standard, it has long been engraved in the hearts of every steel employee. For me, the steel pipe personage, more is the pet has added, as long as has the opportunity to contact regarding the API the list, certainly studies attentively, has given the comfort I to its pursues sentiment.
1.Welded Carbon Steel Pipe Technical Parameters
Product Name

ERW Steel pipe / Carbon steel pipe

Size

OD

141mm-812.8mm

Thickness

4mm-22mm

Length

3-20M

Steel Material

GR.B X42 X46 X52 X56 X60 X65 X70 X80,etc

Standard

API 5L PLS 1 & PLS 2

Usage

Oil Pipe, Casing Tube, Line Pipe and Fluid (Water, Gas) Transmission

Surface

Bared Black Painting, Anti-Corrosion Coating

Proctor

Plastic cap

Package

Bundles, Bulk

Inspection

With Hydraulic Testing, Ultrasonic testing or X-ray Test

Certificate

API and ISO9001;2000

Date of Delivery

Less Than 15/20/25/30/40/50/60 Days According To The Quantity

Payment:

L/C or T/T

Port of Shipment

Xingang,China
2.Welded Carbon Steel Pipe Product Showcase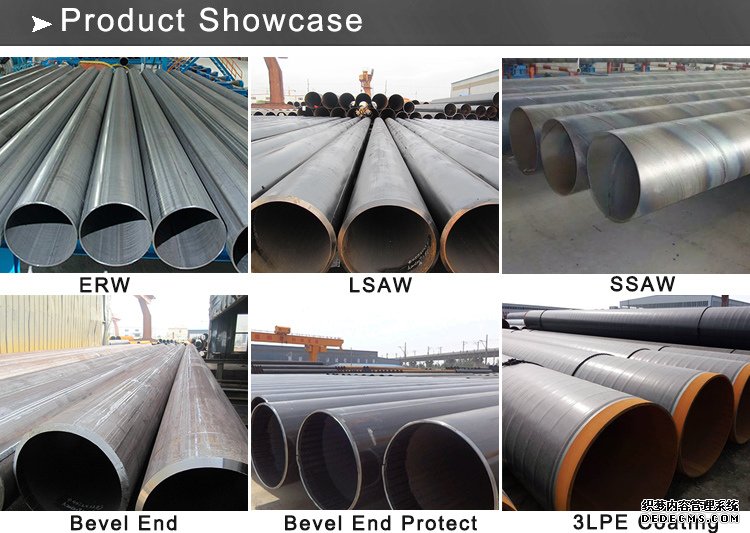 3.Welded Carbon Steel Pipe Quality Control



4.Welded Carbon Steel Pipe Packing and transportation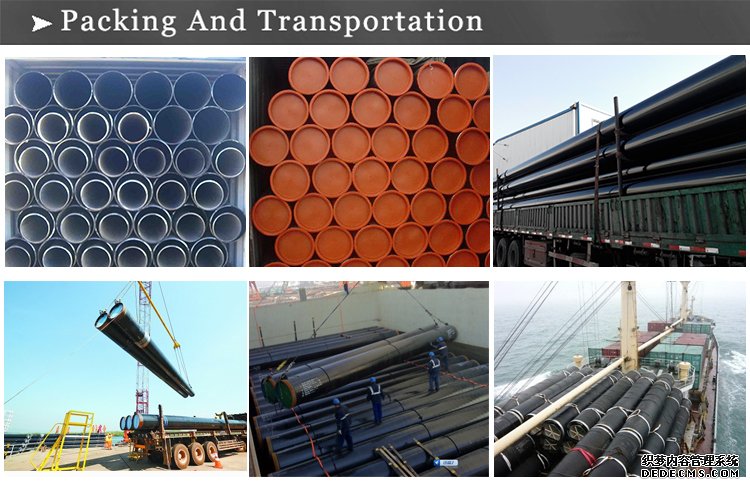 API 5L hot-rolled carbon seamless steel line pipe
| | | | | | | | | | |
| --- | --- | --- | --- | --- | --- | --- | --- | --- | --- |
| YH | SCH20 | SCH30 | SCH40 | SCH60 | XS | SCH80 | SCH100 | SCH120 | SCH140 |
| 4" | | YH | YH | | YH | YH | | YH | |
| 5" | | | YH | | YH | YH | | YH | |
| 6" | | | YH | | YH | YH | | YH | |
| 8" | YH | YH | YH | YH | YH | YH | YH | YH | YH |
| 10" | | YH | YH | YH | YH | YH | YH | YH | |
| | |
| --- | --- |
| product specification level | PSL 1/PSL 2 |
| type of pipe | SMLS (seamless pipe) |
| standard | API 5L |
| steel grade | up to X60 |
| type of length | random/approximate |
| type of end face | plain end/bevelled end, with no thread or coupling |
| type of marking | paint-stencilled |
| other pipes available | API 5CT casing & tubing, GB/T 8162 (EN 10210) structure pipe, GB/T 8163 (ISO 559) liquid pipe, GB 3087 (ISO 9329-1) low/medium pressure boiler pipe, GB 5310 (ISO 9329-2) high pressure boiler pipe, etc. |
API standards can be said to be a wide range, including pipe, pipe fittings, steel components, etc., may be involved in all aspects, if you do not carefully study will never understand its profound. Of course for me this steel pipe talent (oh, small blow), more should know more about the API pipe (seamless steel pipe, straight seam, alloy steel pipe, low-temperature steel pipe, spiral steel pipe, etc.) all standards.
API Spec Steel tube part is roughly two parts: oil casing and pipeline pipe.
Oil casing is mainly used in drilling process and completion of the shaft wall support, in order to ensure the drilling process and completion of the entire well after the normal operation. Oil casing can be produced by: API 5CT (similar to steel pipe GB gb/t19830) specifications include 60.3-508, steel grade for J55, K55, N80, L-80, P-110, C-90, C-95, T-95, etc., machinable buckle type has STC (short round buckle), LC (oblong buckle), BC (partial ladder buckle), VAM (partial ladder buckle), such as buckle type. This buckle type is not a simple connection, which has its own manufacturers of patented products, strict requirements.
A pipeline is a conduit for pumping oil, steam, and water from the ground into oil and gas industries. Pipeline pipe includes seamless pipe and welded steel pipe, its pipe end has flat end, with threaded end and socket end, its connection way has welding, hoop connection, socket connection and so on. Pipeline pipe can be produced to implement the standard: API 5L (similar to steel pipe GB GB/T9711.1/2/3) specifications include 219.1-2032, steel grade for gr.b, X42, X46, X52, X56, X60, X70, X80 and so on.
上一篇:BS1387 or ASTM A53 Galvanized Steel Pipe - Pipe and Tubing -