1.WT:40-120mm
2.OD:273-760mm
3.Application:Fluid pipe
4.Materials:carbon steel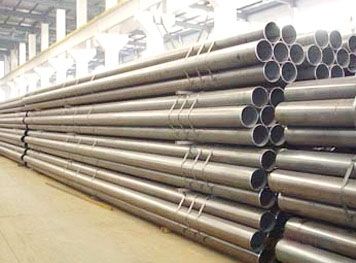 5.Character:seamless,thick wall
6.Delivery:100 tons 20-30 days;above 100 days 30-50 days
7.Package:boundled,in bulk or as per buyers request
8.Length: From 2 to 8 meters
9.MOQ:10TONS
10.Supply Ability:20000tons/year
11.Term of payment:L/C T/T
Diamensional tolerances
Standard codes

Chemical compositions

C

Si

Mn

P

S

Cr

Ni

Cu

GB\T8163

10

0.07-0.14

0.17-0.37

0.35-0.65

≤0.035

≤0.035

≤0.15

≤0.25

≤0.25

20

0.17-0.24

0.17-0.37

0.35-0.65

≤0.035

≤0.035

≤0.25

≤0.25

≤0.25

Q345

0.12-0.20

0.20-0.55

0.20-1.60

≤0.045

≤0.045

/

/

/
Chemical composition
Types of steel tubes

Outer diameters

Wall thickness

Cold-rolled tubes

Tube size(mm)

Tolerances(mm)

Tube sizemm

Tolerancesmm

large than 114-159

±0.8

≤30

±10%

large than 159-219

±1.0

Hot-rolled tubes

large than 219-457

±1.0

≤20

-10%+12.5%

large than 20-40

-10% +10%

large than 457-1066

±0.9

large than 40-70

-7%+9%

large than 70-120

-6%+8%
Annealed: Bright annealed, , Spheroidize annealed
Normalized, Stress relieved, Cold finished, Quenched and Tempered
Delivery Condition :BKS, NBK,BK ,BKW, GBK(+A), NBK(+N), BK(+C)
Packing:Plastic plugs in both ends, Hexagonal bundles of max. 2,000kg with several steel strips, Two tags on each bundle, Wrapped in waterproof paper, PVC sleeve, and sackcloth with several steel strips
Test:Chemical Component Analysis, Mechanical Properties (Ultimate tensile strength, Yield
strength, Elongation), Technical Properties (Flattening Test, Flaring Test, Bending Test, Hardness Test, Blow Test, Impact Test etc), Exterior Size Inspection.
Mill Test Certificate: EN 10204/3.1B.