DIN2391 hydraulic steel pipe
HIGH PRECISION PLANISH STEEL TUBE- hydraulic steel pipe
Standard: DIN 2391, EN10305-1, EN10305-4, BS 6323, BS3602 PT CFS360, ASTM A822-A450
STEEL GRADE: ST37.4, ST52.4, ASTM A450, SAEJ524, BS3602 PT CFS360, E235, E355
DELIVERY CONDITIONS
NBK (+N) Normalized. After the final cold forming process the tubes are annealed above the upper transformation point in a controlled atmosphere.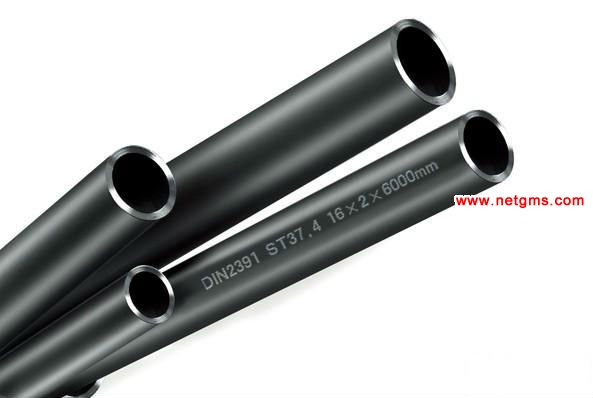 The manufacturing standard adopted for this product is DIN 2391 Standard Series, This type of steel tubes can meet the special requirements of high precision and fine finish steel tubes used in various trades,with the mechanical properties suitable to the bending at any angle and capable of bearing all types of high pressure,cold bending, tube end expansion, bruising, tensile force, impact, impact force etc. , without any occurrence of cracks or crackles, without oxidation scale on the interior or exterior wall of the tubes, without causing any blockage to the pneumatic, hydraulic and oil routes. The percentage elongation and the strength of steel tubes are extremely ideal.
Specification:
Outside Diameter: 4-219mm
Wall Thickness: 1-40mm
Standard and Steel Grade:
DIN73000, DIN2391, EN10305-1, DIN17175 etc;
St35, St35.8, St37, St37.4, St45, St52 etc.
OD

mm

WT

mm

WORKING RESSURE Bar

Burst Pressure Bar

KG/M

4

1

522

2850

0,074

5

1

431

2120

0,099

6

1,5

825

2250

0,166

6

1

509

1385

0,123

8

2

825

2250

0,296

8

1,5

583

1589

0,240

8

1

367

1000

0,173

10

2

630

1714

0,395

10

1,5

450

1229

0,314

10

1

287

783

0,222

12

2,5

660

1800

0,586

12

2

508

1385

0,493

12

1,5

367

1000

0,388

12

1

235

760

0,271

14

3

684

1865

0,814

14

2,5

434

1760

0,709

14

2

426

1161

0,592

14

1,5

302

940

0,462

15

2

394

1075

0,641

15

1,5

287

783

0,499

15

1

188

590

0,345

16

2,5

471

1286

0,832

16

2

367

1000

0,691

16

1,5

264

820

0,536

18

2,5

392

1320

0,956

18

2

322

878

0,789

18

1,5

236

643

0,610

18

1

157

510

0,419

20

3

451

1229

1,260

20

2,5

367

1000

1,080

20

2

282

920

0,888

20

1,5

212

570

0,684

22

2,5

320

1040

1,202

22

2

259

706

0,986

22

1,5

192

590

0,758

25

4

484

1321

2,070

25

3

338

1050

1,628

25

2,5

287

783

1,390

25

2

226

670

1,134

28

2,5

252

770

1,572

28

2

200

545

1,282

28

1,5

151

450

0,980

30

4

400

1075

2,560

30

3

287

783

2,000

30

2,5

235

770

1,695

35

4

322

960

3,058

35

3

243

663

2,370

35

2

161

470

1,628

38

6

390

-

4,735

38

5

388

1059

4,070

38

4

297

970

3,354

38

3

223

660

2,589

38

2,5

186

550

2,189

42

3

200

545

2,890

42

2

134

390

1,973
上一篇:DIN2576 PN10 Plate Piep Flange