API 5CT grade N80 casing pipe,L80 casing tube
This API 5CT grade N80 steel casing tube has basically the exact same parameters since the N80 tubing. Even so, the thread of our merchandise may be pided into buttress variety, extended round kind, quick round kind, VAM variety and a few others.
Material N80, steel quality API 5CT Steel Pipe, J55,K55,L80,N80Q
Outer Diameter 1.900", 4 1/2"-20", 2-3/8", 2-7/8", 3-1/2", 4-1/2" (114.3-508mm)
Wall Thickness 5.12-16.13mm
Type of Thread Buttress thread casing, Extended round thread casing, Limited spherical thread casing
Function It can guard the tubing pipe.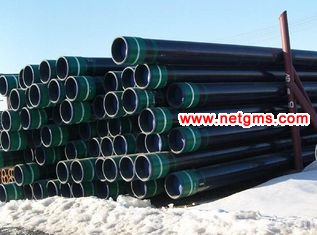 API N80 or N80 Q&T (Quench and Tempered) - general purpose pipe manufactured to API specification 5CT
Our quality N80 metal casing tube has the same steel grade as the J55 form along with the K55 variety goods. All of them belong for the initially group of small steel grade. Our products can drop into N80-1 and N80-Q types. If our client has no desire, there'll be no flaw detection with the N80-1 style solution. The following table demonstrates the distinction between these two types from their visual appeal.
API Normalized N80 - lower-cost alternative to standard Q&T N80; pipe walls less than 0.500 inch; inspections, testing and dimensions are in accordance with API 5CT for grade N80. Charpy v-notch impact test absorbed energy results conform to API SR16 and are lower Q&T N80
Mechanical Propertise
Standard

Grade

Tensile Strength(Mpa)

Yield Strngth (Mpa)

Elongation(%)

Hardness

API SPEC 5CT

N80

≥689

552~758

0.5

 

 

L80(13Cr)

≥655

552~655

0.5

≤241HB
N80 Casing Pipe Grade Chemical Composition(%)
Grade

Chemical Composition(%)

 

C

Si

Mn

P

S

Cr

Ni

Cu

V

N80(36 Mn2V)

0.34~0.38

0.20~0.35

1.45~1.70

≤0.020

≤0.015

≤0.15

 

 

 

 

0.11~0.16
Notes: A lower-cost alternate to standard Quench and Tempered API N80 (partitions considerably less than 0.500 inch). Inspection, screening and dimensions are in accordance with API 5CT for quality N80. Charpy v-notch effect examination absorbed energy success satisfy API SR16 and are reduced than Quench and Tempered N80.
API 5CT grade N80 casing pipe,L80 casing tube