Slotted Casing Pipes - J55/K55,N80,L80,P110
Slotted Casing/Pipes
Material:carbon steel, API material, J55/K55,N80,L80,P110
The slotted liner is primarily utilised towards the water and oil reservation layer devoid of much sand. It really is function is usually to avoid rock bits from dropping into the well bore. The functioning principle would be to enable the certain size and coming fthrough the surface with crude oil but maintaining the bigger size sand getting outside to type the sand bridge for anti-sand purpose. This kind of product is usually utilized to sand rock and catbonate reservoir, in unique, suitable for horizontal wells.Slotting pattern: line slot pattern, staggered slot pattern, many staggered slot pattern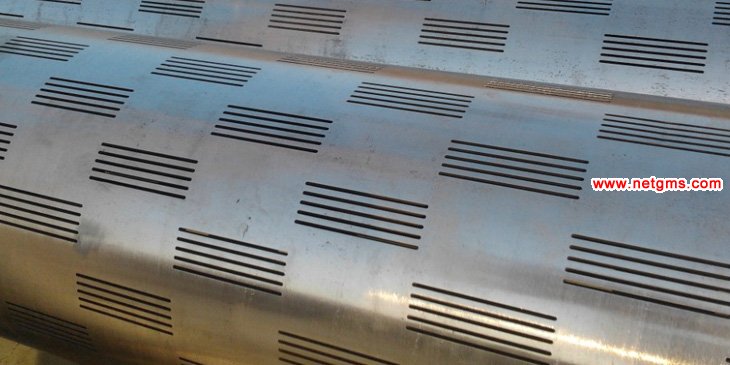 Characteristics
1. The slotted liner is really a robust and cost-effective remedy for lengthy completions or low productivity wells
two. We present straight and keystone slot sort in the wide array of slotting patterns to creat the necessary open region
Spec. Thickness Unit Weight ID Length Slot Length Slot Slot Width Slot Tolerance Valid Filter Area Max.Strength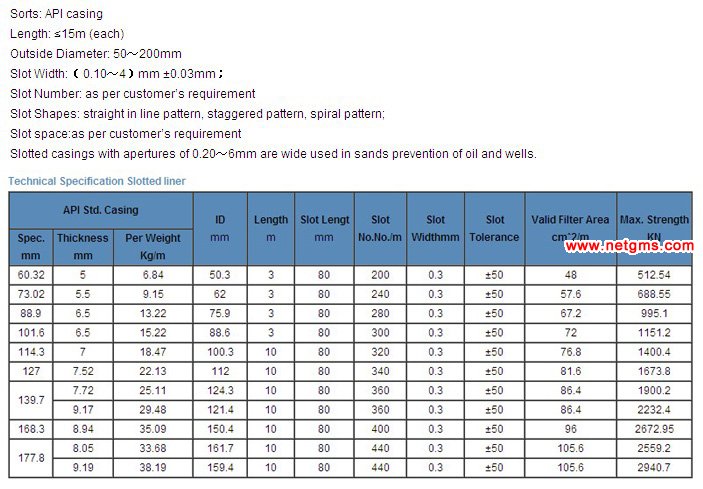 11. Slot space: As per customer's requirement
Features:
1. A continuous slot opening which significantly increases the offered open region, thus offering greater access to the water bearing zone.
two. Beneath exactly the same condition, higher open area could make the speed of groundwater's entering into the screen a great deal slower than any other filtration apparatus, which will avoid sand's getting into into screen due to the fact of higher stress, thus lessen the abrasion with the pump.
3. Our solution have great character of anti-acid,anti-alkali and anti-corrosion,it can adapt for the oil well's unique demand.the crack will not turn out to be bigger because of corrosion.it has good stability.
4. They have the options of easy backwashing, sturdy in use,security and reliability also as low complete cost.
Packing:
Frequently speaking.the inside is packed by plastic membrane,the outdoors is packed by non-woven fabrics,then we bundled them by steel strip.also we are able to pack them based on customers'demands.
上一篇:API 5CT grade N80 casing pipe,L80 casing tube
下一篇:EN 10255 and 10217 ERW pipe,EN 10255/10217 Welded pipe,ssaw pip