Cr5Mo alloy steel pipe Weight schedule
Cr5Mo the alloy Management On Weight Table
Outside diameter

(Mm)

Thickness (mm)
2.0
2.5
3
3.5
4
4.5
5
5.5
6
6.5
Per meter weight (kg)
22
0.986
1.20
1.41
-
-
-
-
-
-
-
25
1.13
1.39
1.63
1.86
-
-
-
-
-
-
28
-
1.57
1.85
2.11
-
-
-
-
-
-
30
-
1.70
2.00
2.29
2.56
-
-
-
-
-
32
-
1.82
2.15
2.46
2.76
3.05
3.33
3.59
3.85
4.09
38
-
2.19
2.59
2.98
3.35
3.72
4.07
4.41
4.74
5.05
42
-
2.44
2.89
3.32
3.75
4.16
4.56
4.95
5.33
5.69
45
-
2.62
3.11
3.58
4.04
4.49
4.93
5.36
5.77
6.17
50
-
2.93
3.48
4.01
4.54
5.05
5.55
6.04
6.51
6.97
54
-
-
3.77
4.36
4.93
5.49
6.04
6.58
7.10
7.61
57
-
-
4.00
4.62
5.23
5.83
6.41
6.99
7.55
8.10
60
-
-
4.22
4.88
5.52
6.16
6.78
7.39
7.99
8.58
63.5
-
-
4.48
5.18
5.87
6.55
7.21
7.87
8.51
9.14
68
-
-
4.81
5.57
6.31
7.05
7.77
8.48
9.17
9.86
70
-
-
4.96
5.74
6.51
7.27
8.01
8.75
9.47
10.18
73
-
-
5.18
6.00
6.81
7.60
8.38
9.16
9.91
10.66
76
-
-
5.46
6.26
7.10
7.93
8.75
9.56
10.36
11.14
83
-
-
-
6.86
7.79
8.71
9.62
10.51
11.39
12.26
89
-
-
-
7.38
8.38
9.38
10.36
11.33
12.28
13.22
95
-
-
-
7.90
8.98
10.04
11.10
12.14
13.17
14.19
102
-
-
-
8.50
9.67
10.80
11.96
13.09
14.21
15.31
108
-
-
-
-
10.26
11.49
12.70
13.90
15.09
16.27
114
-
-
-
-
10.85
12.15
13.44
14.72
15.98
17.23
121
-
-
-
-
11.54
12.93
14.30
15.67
17.02
18.35
127
-
-
-
-
12.13
13.59
15.04
16.48
17.90
19.31
133
-
-
-
-
12.73
14.26
15.78
17.29
18.79
20.28
140
-
-
-
-
-
15.04
16.65
18.24
19.83
21.4
146
-
-
-
-
-
15.7
17.39
19.06
20.72
22.36
152
-
-
-
-
-
16.37
18.13
19.87
21.60
23.32
159
-
-
-
-
-
17.15
18.99
20.82
22.64
24.45
168
-
-
-
-
-
-
20.10
22.04
23.97
25.89
180
-
-
-
-
-
-
21.59
23.67
25.74
27.81
194
-
-
-
-
-
-
23.30
25.60
27.82
30.05
203
-
-
-
-
-
-
-
-
29.14
31.50
219
-
-
-
-
-
-
-
-
31.52
34.06
245
-
-
-
-
-
-
-
-
-
38.23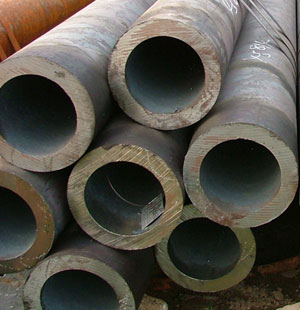 Cr5Mo alloy tube chemical composition
| | | | | | | | | | | |
| --- | --- | --- | --- | --- | --- | --- | --- | --- | --- | --- |
| Grade | C | Mn | Si | Cr | Mo | S ≤ | P ≤ | Nb | V | Al |
| P5 | 0.15max | 0.3-0.6 | 0.5max | 4.0-6.0 | 0.45-0.65 | 0.025 | 0.025 | | | |
Cr5Mo (T5 P5 STFA25)
Features:
Has a good oxidation resistance, corrosion resistance and structural stability.
Alloy pipe
performance heat and process performance.
Application :
High temperature sulfur corrosion, high temperature hydrogen and hydrogen sulfide corrosion, organic acid corrosion.
Wall temperature of 630 ℃ -650 ℃ reheater tube.
Examples of use
≤ 600 ° C high temperature furnace tubes and components.
Relevant standards
ASTM A213
ASTM A335
JIS G3467
GB9948-1999
上一篇:Q345B thick walled steel pipe