3PE Coating Spiral steel pipe
Anti-corrosion steel pipe manufacturing method
Generally based anti-corrosion steel pipe straight seam steel pipe (LSAW) (also available spiral welded steel pipe, seamless steel pipe) for the base metal, processing embalmed process, so that the pipe can effectively prevent or slow down the chemical during transport and use The electrochemical reaction occurs corrosion phenomena.
3PE Coating Spiral steel pipe :
O.D.:219mm-2850mm
W.T.:3mm-22mm
Material: 20# , q235
Package: 3PE COATING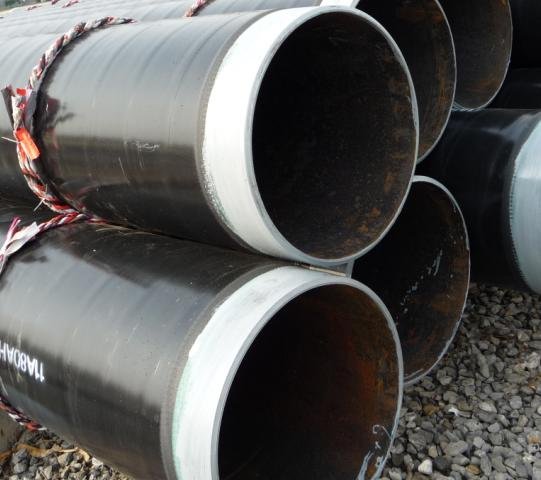 3PE spiral Steel pipe

Additions:

1)spiral steel pipe

2)ends;

3)Astm A106/A53

4)od:219-2420mm

5)wt:4-24mm

Size

Wall thickness (W.T.)

219mm-2420mm

4mm-24mm

Length

1m-20m ,by customer's requirements

International Standard

ISO2008

Standards

API5L ;GB/T9711.1-1997;EN10217/10219;SY5037;

ASTM5252;DIN;BSGB/T9711.1~2;

Materials

Q195,Q215,Q235,Q345

Product Category

Metallurgy, Mineral &Energy

Technique

Welded

Packing

1.Big OD: in bulk

2.Small OD: packed by steel strips

3.woven cloth with 7 slats

4.according to the requirements of customers

Usage

Petroleum line pipe: gas pipe: fluid pipe; construction &water project;

Main market

Middle East, Africa, Asia and some European country and America ,Australia

Country of origin

China

Productivity

3000 Metric Tons pet Month

Remark

Payment terms :T/T ,L/C
Terms of trade :FOB ,CFR,CIF ,DDP,EXW
Minimum order : 10 tons
Lead time :on or before 20 days .

Logo

SINO EAST

Other

1.Special design available according to requirement

2.anti-corrosion and high-temperature resistant with black painting

3. All the production process are made under the ISO9001:2008 strictly.
Pipe Coating Category
(1) IPN8710 anti-corrosion steel pipe
More steel pipe corrosion media types, such as acid, alkali, salt, oxidizer, and water vapor, the coating must be chemically inert, acid and alkali salt corrosion, the coating should be compact structure, water permeability, adhesion , tough fullness. Such situation applicable IPN8710 anticorrosive.
IPN8710 anti-corrosion primer:
Polyurethane polyethylene, modified epoxy resin, non-toxic anti-rust pigments and fillers, additives, cured at room temperature to form interpenetrating network, coating structure is dense, acid, alkali, salt, anti-rust performance, adhesion strong primer coating for corrosion protection of the water supply pipeline wall.
IPN8710 anticorrosive topcoat:
Composed of epoxy, rubber, resin-modified, non-toxic anti-rust pigments and fillers, additives. Excellent chemical resistance, non-toxic, anti-microbial attack, for the inner wall of the water supply pipeline corrosion topcoat.
(2) FBE epoxy powder anti-corrosion steel pipe
Steel surface coated with epoxy powder electrostatic spraying process, once the film-forming. The coating has a coating operation is simple, non-polluting, coating, impact resistance and anti-bending performance, high temperature resistance advantages.
(3) 2PE/3PE preservative
Electrostatic spraying epoxy powder steel surface and lateral wound adhesive the lateral wound polyethylene coating, combined with three excellent performance, which significantly improve the overall quality of the anti-corrosion pipe. Resistant to chemical corrosion, cathodic disbondment resistance, mechanical damage resistance.
(4) coal tar epoxy

Filler made of epoxy coal tar pitch anticorrosive coating on the steel surface with glass cloth as to strengthen formed by coating a coating, commonly used in the pipe wall corrosion. The thickness is generally 0.5 ~ 1.0mm.
(5) high-density polyethylene jacket preservative
Made of high density polyethylene material of the steel pipe outer surface inclusions having a high mechanical strength and excellent corrosion resistance, can protect the steel in transportation, installation and use of the process to avoid the damage caused due to external factors. Manufacture the outer tube should be added such as antioxidants, ultraviolet stabilizers, and carbon black. Polyethylene jacket tube easy to aging, such as open storage is preferred covered by a tarpaulin and other objects, the dumps should stay away from high heat and fire sources, made of anti-corrosion steel pipe, prohibit exposure, quenched, or polyethylene jacket tube is easy to crack, impact product performance and service life.
(6) epoxy powder dip process anticorrosive
Epoxy powder has been the use of electrostatic spraying coating. Were never able to promote adhesion problems due to the epoxy powder dip process, epoxy powder dip. The successful development of recent years, with the epoxy powder Dip dedicated phosphating solution, for the first time to overcome the adhesion problems of epoxy powder dip process began epoxy powder dip this emerging technology.
上一篇:Cold drawn steel pipe TIG red argon Note