Seamless steel pipe
1) ·
fertilizer use fertilizer with a high-pressure seamless steel pipe pressure seamless steel, national technical standards Fertilizer with high pressure seamless steel pipe GB6479-86, with high-quality carbon steel pipe (20 '), ordinary low-alloy steel (15MnV, 62MnM9V, 10MnVNiTi) and not pot acid resistant steel (Crl7Mal3M 2Ni) create, apply to the nominal pressure 22MPa, 32MPa, working temperature of 40 400 ° C, the transmission medium for ammonia synthesis feed gas ( hydrogen and fluorine); the atmosphere: LP alcohol, such as urea pipeline. Specifications are shown in Table 7-7.
2. Petroleum casing pipe
petroleum casing pipe national technical standards for petroleum cracking steel pipe GB9948-88 "regulations, with high-quality carbon steel (10 ', 20'), ordinary low-alloy steel (16AL3MowTz, Cr5M.) manufactured applicable refinery furnace tubes, heat exchange tubes and pipes, seamless steel tubes, pipes with the selection of tube of unified-like seamless copper tube GB8162-87 specifications. 'The petroleum cracking with no wrapped steel pipe size to see Mak 7-8.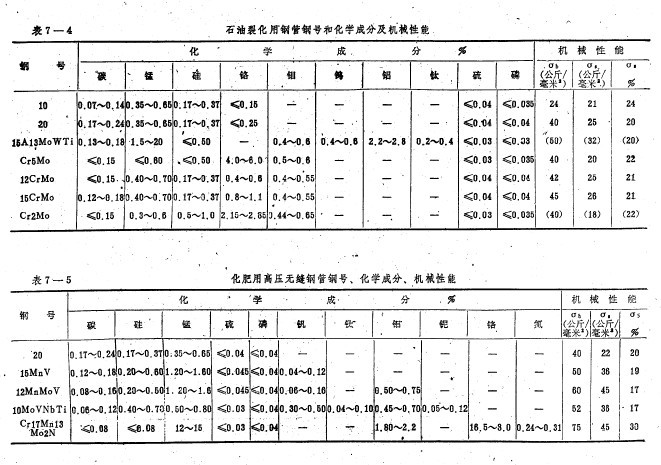 9. low-pressure boiler steel pipe. . .
1) a variety of boiler tube should perform GB3087-82 standard, its specifications should co forbearance 7-9.
2) outside diameter, and wall thickness allow Beth difference should melt it together in Table 7 a lo.
3) for various structures boilers Lead piping 20 steel, its chemical composition should be consistent GB699-65 quality carbon cable structure steel steel No. - Boat technical conditions "aid provisions.