X80 steel pipes,X80 Line Pipe
Product types

Regulation grid

Top grade / steel

Availability and price

Implementation of standards

Typical use

OD

Thickness

Line Pipe

48-720

5.1-30

L245 , L290 , L320 ,L360, L390, L415

Please ITU

GB/T9711.1

GB/T9711.2

ISO3183-1

ISO3183-2

Natural gas and other petroleum gases and liquids.

A , B , X42 , X46, X56, X60, X65

API Spec 5L

B

ASTM A53

ASTM A106
Molybdenum X80 steel pipes High Deformability Pipeline Steels two stage cooling process control
Existing studies using low C steel containing Mo composition design, but also other alloying elements Nb, Ti, Cu and Ni. Test steel vacuum induction furnace, vacuum casting and rapid cooling, heating and forging ingot is then rolled into a rectangular slab.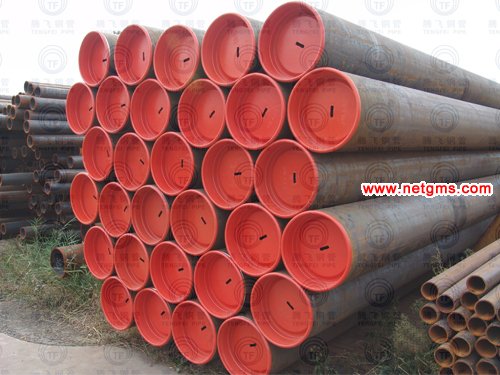 Billet into resistance furnace heating, then insulation, then rolled in a four-roll mill, after seven times rolled steel specimens. Recrystallization using hot zone and two-stage non-recrystallization region controlled rolling, recrystallization temperature and rolling open rolling finishing temperature difference of one hundred or so, the cumulative reduction rate> 60%; non-recrystallization region open rolling rolling temperature and the final rolling temperature is low, the cumulative reduction rate> 70%.
After rolling the traditional pipeline are quickly cooled by direct cooling, bainite organized as a single, high strength and toughness, but the plastic is inadequate; Deformability in order to obtain good performance of ferrite - bainite duplex structure, study used a two-stage controlled cooling process: first after rolling slowly cooled to temperatures below Ar3 to obtain a certain content of ferrite; followed by accelerated cooling into the water, so that the remaining unconverted supercooled austenite in the fast cooling process into bainite.
Two-stage controlled cooling process, the obtained test steel containing Mo ferritic - bainitic phase organization, which includes polygonal ferrite ferrite and quasi-polygonal ferrite, granular bainite bainite.
The accelerated cooling start cooling temperature determines the organization of ferrite content: with the open cooling temperature decreases, the Mo-containing test steels increasing volume fraction of ferrite, the ferrite grain size increases; initial volume fraction of ferrite is increased grain nucleation mainly caused by the increase amount, the latter is mainly caused by the growth of grains. The end of the cold temperatures accelerated cooling influence tissue bainite characteristics: final cooling temperature is higher, the bainite M / A islands size is more coarse and more non-equiaxed; final cooling temperature is low, bainite M / A content decreased, more small size, the distribution is more uniform, homogeneous enhancement.
With the opening of accelerated cooling cold temperature decreases, the ferrite content increased, with Mo drop test steel yield strength, tensile strength increased and then decreased, lowering the yield ratio, uniform elongation increased. When a ferrite content, the impact of the uniform elongation of the main factors of bainite M / A characteristic. With the accelerated cooling of the final cooling temperature lower, M / A content is reduced, even smaller size, fine and uniform distribution of M / A to increase hardening rate, delayed necking occurs, the sample, while the intensity is not uniform stretch growth rate significantly.
上一篇:Pipe Fittings technical requirements