X65 LSAW spiral pipes
Lengths available are almost endless but because of transportation we do have some limitations. Grades available are ASTM, API, and AWWA specifications.
Application uses are dredging, slurry, floating docks for marinas, road casing, road boring, penstocks, fabrication, pillars and pilings.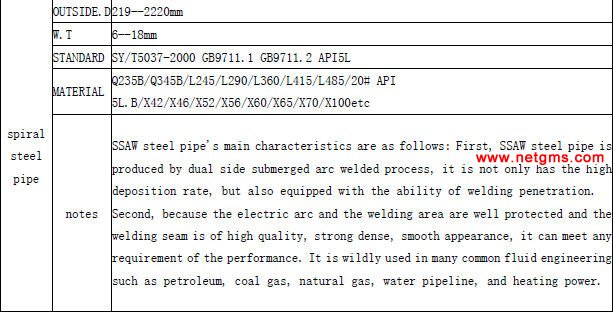 Spiral pipe suppliers and manufacturers can supply the construction industry with new and used spiral steel pipe. We sell spiral in a range of sizes from 16.00" small O.D pipe through to 96.00" large O.D; with mill contacts we can even achieve higher Outer Diameters. Wall thicknesses available are .250" up to .750". Due to the expert manufacturing method, a wide variety of diameters can be produced.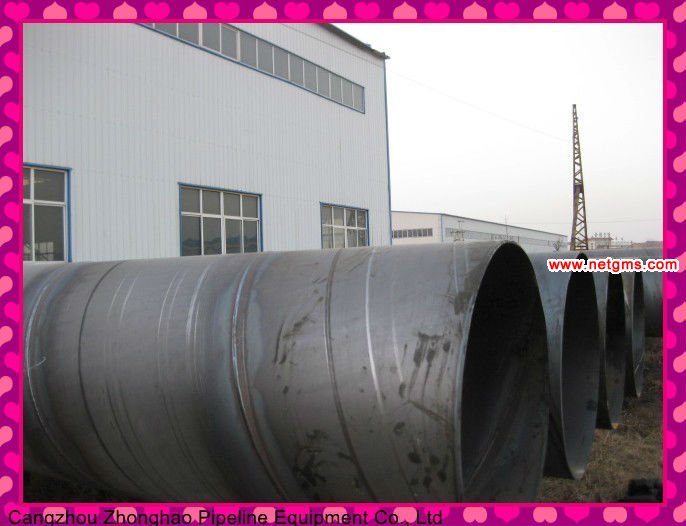 Most spirally welded steel pipe is manufactured to order, given specific outer diameter, wall thickness, grade, steel strength, and length. Turn around time is incomparable for a quality produced product. Spiral pipe is economical and has a long cycle life giving your project reliability every time.
Spiral steel pipe main quality indicators
Project

Steel pipe

API Spec 5L

GB/T9711-1997

SY/T5037-2000

Pipe end diameter
deviation

+2.38mm
-0.79mm

+2.38mm
-0.79mm

D <508 ± 0.75% D or ± 2.5 take a small value
D ≥ 508 ± 0.50% D or ± 4.5 take a small value

Thickness Tolerance

D <508 +15.0% 12.5% t-t
D ≥ 508 +19.5% 8.0% t t-

D <508 +15.0% 12.5% t-t
D ≥ 508 +17.5% 10.0% t t-

D <508 ± 12.5% t
D ≥ 508 ± 10.0% t

Weld reinforcement

≤3.18mm

≤3.18mm

t ≤ 12.5  t ≤3.2mm
t> 12.5  t ≤4.8mm

Straightness

≤ 0.2% L

≤ 0.2% L

≤ 0.2% L

Pipe end state

Bevel 30 ° - 35 °
Dayton edge 1.59 ±0.79mm
Cut diagonally ≤1.59mm

Bevel 30 ° - 35 °
Dayton edge 1.59 ±0.79mm
Cut diagonally ≤1.59mm

Bevel 30 ° - 35 °
Dayton edge 1.59 ±0.79mm
Cut diagonally ≤1.59mm

With the roundness

D> 508 ± 1.0% D

D> 508 ± 1.0% D

D> 508 ± 1.0% D

NDT

100% X -rays, or 100% of the ultrasonic plus pipe end X-ray inspection.

Away from the pipe end203mmRadiographic inspection of welds within; away from the pipe end203mmOutside welds using ultrasonic inspection; rival welds, welding and circumferential welds using ultrasonic inspection

Welding seam, circumferential weld and weld head using X-rays or ultrasound test. Should be carried out on the original welds 100% X-ray or ultrasonic inspection or spot checks

Hydrostatic test

P = 2St / D

P = 2St / D

P = 2St / D

Remark

D: nominal pipe diameter , mm       t: nominal pipe wall thickness , mm
S: hydrostatic test stress , Mpa       P: hydrostatic test pressure , Mpa
L; single pipe length, mm