Large carbon steel elbow forming technology
Large carbon steel elbow and elbow forming technology
Products

Butt weld pipe elbow

Size

Seamless(SMLS) : 1/2"-24" ,DN15-DN600

Butt Welded (seam) :24"-72",DN600-DN1800

Type

LR 30,45,60,90,180 degree SR 30,45,60,90,180 degree

1.0D, 1.5D, 2.0D, 2.5D, 3D,4D,5D,6D,7D-40D.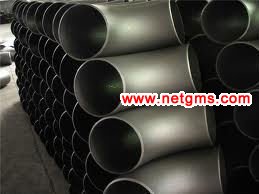 Certificate

API, CE, ISO9001 ,OHSAS18001

Standard

ASME B16.9, ASME B16.28, ASME B16.25, MSS SP-75 DIN2605 JISB2311 JISB2312 JISB2313, BS, GB, ISO

Material

1) Carbon Steel: ASTM A234 WPB, ASTM A420 WPL9, WPHY-60

2) Stainless Steel: ASTM A403 WP304/304L, WP316/316L, WP321

3) Alloy Steel: ASTM A234 WP1, WP11, WP12, WP22, WP5, WP9, WP91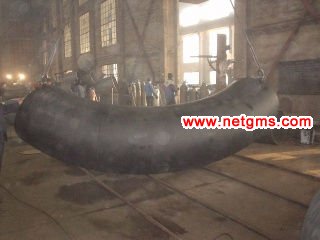 Subject: Large Elbow mainly large carbon steel elbow processing technology molding technology
The main contents
Basic process is: First welding a polygonal cross-section or a polygonal ring shell closed at both ends of the multi-row fan shell, the internal pressure washed over the media, applying less pressure, including pressure from the polygonal cross-section under the action of becoming round, eventually becoming a circular ring shells. If necessary, a circular ring shell can be cut four or six 90 ○ 60 ○ elbow elbow elbow or other specifications, the process for the manufacture of medium diameter elbow with elbow diameter ratio greater than 1.5 in any specification large elbow, is ideal for manufacturing large pressure elbow method. Advantages mainly in the following aspects: (1) no billets as raw material savings pipe equipment and tooling costs, and arbitrarily large diameter and wall thickness can be obtained relatively thin elbow. (2) a flat plate or billet developable surfaces, thus cutting simple and easy to ensure accuracy, easy assembly and welding. (3) Because of the above two reasons, the manufacturing cycle can be shortened, the production cost is greatly reduced. Because does not require any special equipment, especially for on-site processing of large elbow. The technology has been applied for patent.
Technical Specifications
This technique is applicable to manufacturing work pressure is less than 10MPa, elbow diameter d? 125mm, diameter D and elbow elbow in diameter d ratio D / d? 1.5 Any elbow, and elbow in diameter size is unlimited. For example, can be processed elbow diameter of 12m, 60m above the elbow in the large diameter of the elbow.
Applications
Oil, gas, chemicals, utilities, construction and other industries boiler piping system.
上一篇:carbon steel blind flange AND flange specifications