1. Introduction to alloy steel pipe
  Alloy steel pipes have a hollow cross section and are used in large quantities as pipes for transporting fluids, such as pipes for transporting petroleum, natural gas, coal gas, water and certain solid materials. Compared with solid steel such as round steel, the alloy steel pipe has a lighter weight when the bending and torsional strength are the same.
  Alloy steel pipe has good mechanical properties. Its main purpose is for high-voltage and high-temperature pipelines and equipment such as power plants, nuclear power, high-pressure boilers, high-temperature superheaters and reheaters. It is made of high-quality carbon steel, alloy structural steel and stainless steel. Heat-resistant steel is made of hot-rolled (extruded, expanded) or cold-rolled (drawn). The biggest advantage can be 100% recycled. It meets the national strategy of environmental protection, energy saving and resource conservation. The national policy encourages the expansion of high-pressure alloy tubes. Application area. At present, China's alloy tube consumption accounts for half of the total amount of steel in developed countries, and the expansion of alloy tube use provides a broader space for industry development.
  According to the research of the expert group of the alloy pipe branch of China Special Steel Association, the demand for long-term high-pressure alloy pipe in China will increase by 10-12% annually. The alloy pipe is defined by the production material (that is, the material). As the name suggests, it is the pipe made of alloy; and the seamless pipe is defined by the production process (seam seamless), which is different from the seamless pipe. There are seam pipes, including straight seam welded pipes and spiral pipes.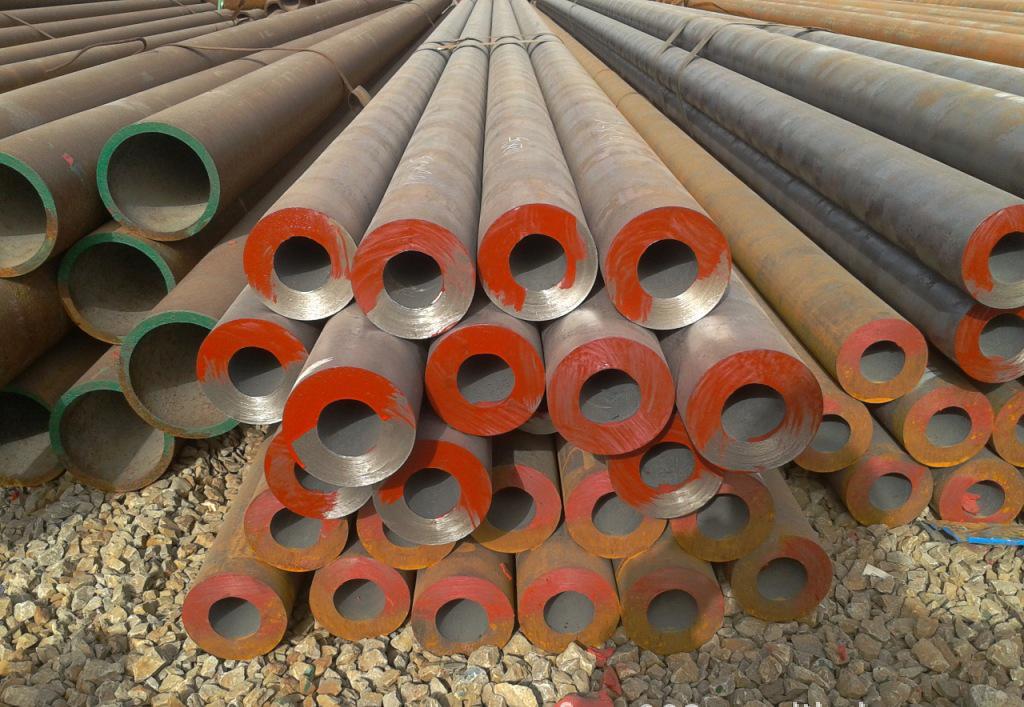 2, chemical composition
C: 0.08 to 0.15
Si: 0.17 to 0.37
Mn: 0.40 to 0.70
Cr: 0.90 to 1.20
Mo: 0.25 to 0.35
V: 0.15 to 0.30
3. The influence of alloying elements
Carbon (C) carbon is the main element in steel. As the carbon content in steel increases, the room temperature strength and hardness of steel increase, but the plasticity, toughness and welding energy decrease. Therefore, the carbon content of steel for boiler pressure components The amount is generally 0.1% to 0.25%.
Manganese (Mn) manganese can increase the room temperature strength, hardness and wear resistance of steel. When the content is high, the welding stress increases. Manganese can increase the high temperature short-term strength of steel, but has no obvious influence on the permanent strength and creep limit. .
Molybdenum (Mo) and chromium (Cr) molybdenum and chromium can increase the strength of steel. Chromium can improve the high temperature structure stability of steel - resist pearlite spheroidization, graphitization, high temperature oxidation resistance and improve resistance Corrosive. However, steel with high chromium content has strong welding crack sensitivity and large temperature difference stress. Molybdenum has a significant effect on improving the long-lasting high strength of steel. Molybdenum has a tendency to be graphitized to add chromium to prevent disease, and chromium embrittlement can be used. Molybdenum can be prevented, and the coexistence of the two can improve the comprehensive performance of steel.
Vanadium (V) vanadium can improve the stability of high temperature microstructure in steel, and can also offset the adverse effect of chromium on welding performance. Titanium (Ti) titanium can improve steel Durable strength, in alloy steel, can also improve the welding performance of steel. Tungsten (W) tungsten can improve the long-term strength and high temperature hardness of steel. Silicon (Si) silicon can improve the strength, wear resistance and oxidation resistance of steel. When coexisting with chromium, it can improve the resistance to high temperature oxidation, and also improve the corrosion resistance in the flue gas. 铌(Nb)铌 has the same effect as titanium, which can improve the thermal strength of steel. Boron (B) boron The outstanding function is to improve the hardenability of steel. It can improve the heat strength and durability of steel in heat-resistant steel. Plasticity.


4, heat treatment performance
  The heat treatment process of alloy steel is divided into low carbon alloy steel, medium carbon alloy steel and high carbon alloy steel. Low carbon alloy steel generally needs carburizing, quenching and tempering; medium carbon alloy steel generally needs to be quenched and tempered. Surface quenching is also carried out as needed; high carbon alloy steels generally require quenching and tempering. For example: low carbon alloy steel 18CrMnTi, 920~950 °C carburizing, 850~870 °C oil quenching, tempering 180~200 °C, surface hardness HRC58~67, core HRC30~45; medium carbon alloy steel 40CrMnMo, 840~850 °C oil quenching, 630~650°C water or oil, hardness HB 302~341; high carbon alloy steel Cr12MoV, 950~1000°C oil quenching, 150~180°C tempering, HRC60~64.
5, the smelting process
Smelting equipment: 坩埚 resistance furnace, gas continuous melting furnace.
Process specification: The materials used in smelting should be placed in a dry and non-polluting place, and treated before use to remove surface contaminants before use.
Refining treatment: removal of gases, non-metallic inclusions and other harmful elements in the alloy.