API 5L LSAW, OD610mm,wall thickness 15.9,
Longitudinally Submerged Arc Welding (LSAW) pipes use single plate steel as raw material, applied double-sided submerged arc welding. The finished products have larger specifications and the welding joints have excellent ductility, plasticity and good sealing. LSAW pipes have large diameter, thick wall and can withstand high pressure and low temperature. LSAW pipes play a major role in oil and gas pipelines with features of high strength, high quality and long distance. According to the standard of American Petroleum Institute (API), the LSAW pipe is the only designated pipe in large scaled oil and gas transportation, especially when the pipelines cross the densely populated urban areas and the first and second class cities.
LSAW (LSAW) in leaflets plate as raw material, the steel plate in the mold or molding device pressure (volume) into utilizing double-sided submerged arc welding and flaring from production. A large range of the finished item specifications, weld strength, ductility, harmony and thick, with a big diameter, wall thickness, high pressure resistance, low-temperature corrosion resistance, and so on. Needed steel pipe in the building and construction of high-strength, high durability, premium long-distance oil and gas pipelines, mainly large diameter thick wall LSAW.
specification about
API 5L LSAW, OD610mm,wall thickness 15.9,
| | |
| --- | --- |
| wall Thickness | 15.9mm |
| OD | 610 |
| Length | Specified or Random (Max 18 meters) |
| Standard | API 5L, API 5CT, GB/T 9711, EN10219, EN 10217, ASTM252, SY/T5037, SY/T5040 |
| Material | API 5L: GR B, X42,X46, X56, X60,X65,X70 |
| Applications | Mainly use in water engineering,petrochemical industry,chemical industry, power industry, agricultural irrigation, urban construction. |
| surface treatment | Fusion bond Epoxy coating, Coal Tar Epoxy, 3PE, Vanish Coating, Bitumen Coating, Black Oil coating as per customer's requirement |
| Inspections | Various Visual & Dimensional Inspections |
| Payment | TT ,100% irrevocable L/C at sight |
| Packing | As per customer requirements |
| Delivery Time | 30 days after signed contract |
| Coating | If needed, as per customer requirements |
| Certificates | API 5L, API 5CT, FPC BC1:2001, ISO 9001:2008, ISO 14001, OHSMS |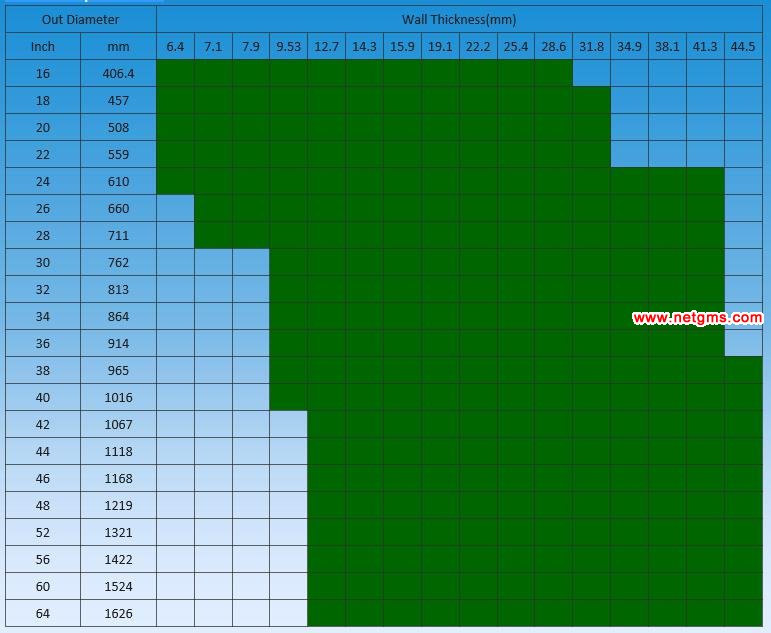 上一篇:API 5L pipe
下一篇:Oil casing material, J55 oil casing, N80 oil casing, P110 oil casing, mechanical properties