ERW and Seamless Water Line Pipe.OIL Line Pipe, Gas Line Pip
NEW SINDA STEEL PIPE CO.,LTD CARBON SEAMLESS MANUFACTURERS
CHINA Piping Products distributes a huge selection of carbon seamless steel pipe, fittings and flanges from the world's leading manufacturers.
ASTM A53 SEAMLESS STEEL PIPE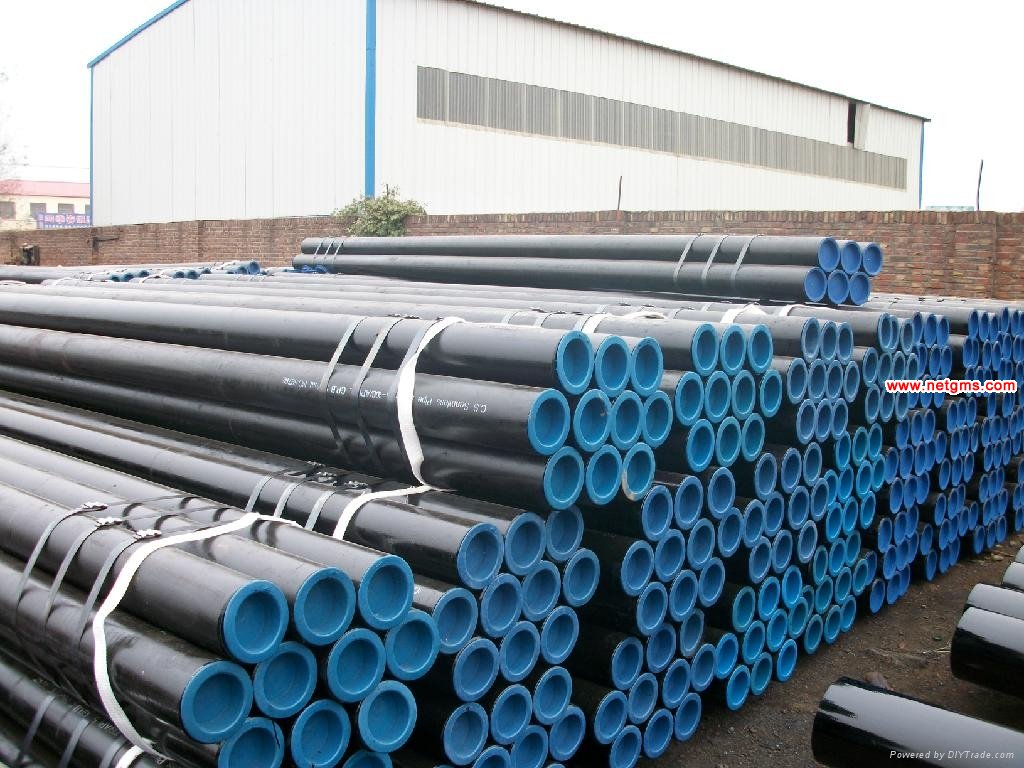 ASTM A53 pipe (also referred to as ASME SA53 pipe) is intended for mechanical and pressure applications and is also acceptable for ordinary uses in steam, water, gas and air lines. It is suitable for welding and for forming operations involving coiling, bending, and flanging, subject to certain qualifications.
American Piping Products stocks a full range of A53 pipe (SA53 Pipe) in:
Grade B
NPS ¼" to 30" diameter
Schedules 10 through 160, STD, XH and XXH
NEW SINDA API 5L & 5CT, ASTM A53 ERW PIPES
NEW SINDA PIPE Only first - class steel is used in manufacturing of our pipe using the continous forming process, with a longitudinal normalized seam produced by the high frequency ERW method. All requeriments established by the API 5L & 5CT, plus ASTM A53 standards are strictly observed, resulting in the following advantages:
- Highly precise dimensional tolerances, such as roundness, straightness and wall thickness.
- The most reliable high frequency weld seam, obtained from the coalescence of skelp end during the pipe forming process.
Our pipe´s standard lengths are 10`, 20´, and 40´, with 30º beveled ends of different angles, or with a welding collar to join the pipes easier, specially in water wells.



NOMINAL DIAMETER


OUTSIDE
DIAMETER

API 5L GRADE B
PRESSURE TEST

pulg.
pulg.
mm.
pulg.
pulg.
mm.
no.
lb/pie
kg/m
lb/plg2
kg/cm2

6"

6 5/8"

168.3

1/4"

0.250"

6.4

17.02

25.55

1,580

109

9/32"

0.280"

7.1

40

18.97

28.22

1,780

123

8"

8 5/8"

219.1

1/4"

0.250"

6.4

20

22.36

33.57

1,220

84

9/32"

0.277"

7.0

30

24.70

36.61

1,350

93

0.322"

8.2

40

28.55

42.48

1,570

108

10"

10 3/4"

273.1

1/4"

0.250"

6.4

20

28.04

42.09

980

68

9/32"

0.279"

7.1

31.20

46.57

1,090

75

3/8"

0.365"

9.3

40

40.48

60.50

1,430

99

12"

12 3/4"

323.9

1/4"

0.250"

6.4

20

33.38

50.11

820

56

3/8"

0.375"

9.5

STD

49.56

73.65

1,240

85

14"

14"

355.6

1/4"

0.250"

6.4

10

36.71

55.11

750

52

5/16"

0.312"

7.9

20

45.61

67.74

940

65

3/8"

0.375"

9.5

30

54.57

81.08

1,120

77

1/2"

16"

16"

406.4

1/4"

0.250"

6.4

10

42.05

63.13

660

45

5/16"

0.312"

7.9

20

52.27

77.63

820

56

3/8"

0.375"

9.5

STD

62.58

92.98

980

68

1/2"

18"

18"

457

1/4"

0.250"

6.4

10

47.39

71.12

580

40

3/8"

0.375"

9.5

STD

70.59

104.8

880

61

1/2"

XS

20"

20"

508

1/4"

0.250"

6.4

10

52.73

79.16

530

36

3/8"

0.375"

9.5

20

78.60

116.80

790

54

1/2"

30

74

24"

24"

610

1/4"

0.250"

6.4

10

63.41

95.26

440

30

3/8"

0.375"

9.5

20

94.62

140.68

660

45

1/2"

0.500"

12.7

XS

125.61

187.06

880

62

上一篇:Casing and tubing, line pipe & drill pipe