API5L X42 X52 X56 X60 X65 X70 X80 PSL2 PSL 2 Seamless / ERW
API 5L Line pipes X42 X52 X56 X60 X65 X70 X80 PSL2 PSL 2 Seamless / ERW / LSAW Pipe
API SPEC 5L line pipe is a kind of steel pipe used for transporting materials through pipelines across the country. This seamless line pipe can be used to transport petroleum, natural gas, oil and water. It is a durable pipe that must meet certain specifications and regulations. This fluid line pipe or natural gas pipeline typically has a high strength and durability in order to withstand high pressure. JST is able to supply and distribute API SPEC 5L line pipes in a complete variety of sizes, lengths, diameters and grades. As a leading pipe distributor, we are not only able to supply new seamless line pipes, but also cut pipes to your required length and add special coatings as needed.
Size (Seamless): 1/2" NB - 28" NB
Size (ERW): 1/2" NB - 60" NB
Size (LSAW): 16" NB - 100" NB
Wall Thickness available: Schedule 20 - Schedule XXS (heavier on request) up to 250 mm thk.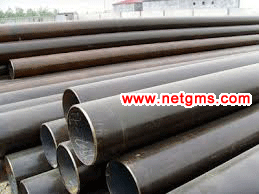 Properties:
PSL 1

GRADE

Chemical Composition

Mechanical Property

C (Max)

Mn (Max)

P (Max)

S (Max)

TENSILE ( Min )

YIELD ( Min )

Psi X 1000

Mpa

Psi X 1000

Mpa

A25

CL I

0.21

0.60

0.030

0.030

45

310

25

172

CL II

0.21

0.60

0.030

0.030

A

0.22

0.90

0.030

0.030

48

331

30

207

B

0.26

1.20

0.030

0.030

60

414

35

241

X42

0.26

1.30

0.030

0.030

60

414

42

290

X46

0.26

1.40

0.030

0.030

63

434

46

317

X52

0.26

1.40

0.030

0.030

66

455

52

359

X56

0.26

1.40

0.030

0.030

71

490

56

386

X60

0.26

1.40

0.030

0.030

75

517

60

414

X65

0.26

1.45

0.030

0.030

77

531

65

448

X70

0.26

1.65

0.030

0.030

82

565

70

483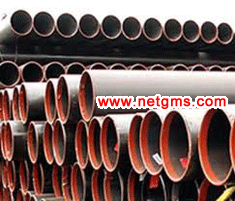 PSL 2

GRADE

Chemical Composition

Mechanical Property

C
(Max)

Mn
(Max)

P
(Max)

S
(Max)

Tensile

Yield

C. E. IMPACT ENERGY

Psi x 1000

Mpa

Psi x 1000

Mpa

PCM

IIW

J

FT/LB

B

0.22

1.20

0.025

0.015

60 - 110

414 - 758

35 - 65

241 - 448

0.25

0.43

T/L 27/41

T/L 20/30

X42

0.22

1.30

0.025

0.015

60 - 110

414 - 758

42 - 72

290 - 496

0.25

0.43

T/L 27/41

T/L 20/30

X46

0.22

1.40

0.025

0.015

63 - 110

434 - 758

46 - 76

317 - 524

0.25

0.43

T/L 27/41

T/L 20/30

X52

0.22

1.40

0.025

0.015

66 - 110

455 - 758

52 - 77

359 - 531

0.25

0.43

T/L 27/41

T/L 20/30

X56

0.22

1.40

0.025

0.015

71 - 110

490 - 758

56 - 79

386 - 544

0.25

0.43

T/L 27/41

T/L 20/30

X60

0.22

1.40

0.025

0.015

75 - 110

517 - 758

60 - 82

414 - 565

0.25

0.43

T/L 27/41

T/L 20/30

X65

0.22

1.45

0.025

0.015

77 - 110

531 - 758

65 - 82

448 - 565

0.25

0.43

T/L 27/41

T/L 20/30

X70

0.22

1.65

0.025

0.015

82 - 110

565 - 758

70 - 82

483 - 565

0.25

0.43

T/L 27/41

T/L 20/30

X80

0.22

1.90

0.025

0.015

90 - 120

621 - 827

80 - 102

552 - 705

0.25

0.43

T/L 27/41

T/L 20/30
上一篇:API 5L Line Pipe - X52 X60 X70 X80
下一篇:JIS G3455 Carbon steel pipe,JIS G3452 steel pipes for ordina